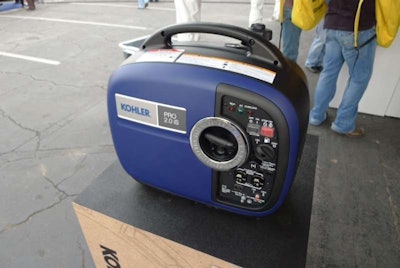 At the World of Concrete show in Las Vegas, Kohler has launched a new line of portable generators and trash pumps.
The smallest of the new generators, the Kohler Pro 2.0iS, could fit in a backpack, but it brings enough power, two kilowatts, to keep a single tradesman running power tools and electronics on the job. A sensor monitors power demand and varies engine speed to save fuel
The largest generator, the Kohler Pro 12.3 EFI, features the Kohler Command Pro electronic fuel injection engine with an oxygen sensor in the exhaust which monitor fuel combustion and adjusts injection parameters to maximize fuel economy.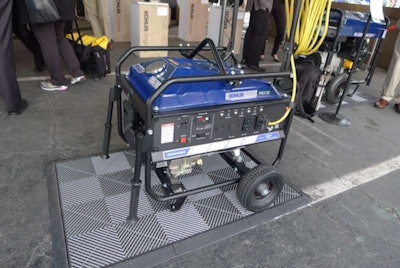 There is also a 5.4kW diesel generator in the lineup. Additional generators in the new series offer 2.8 kW, 5.2 kW, and 7.5 kW.
The 5.2 kW and up models offer the company's Accu-fill design which makes fueling easier and spills less likely. The bigger units are also designed with customizable features and frames that provide over 100 different configurations.
So, for example, if you wanted to mount your generator on your service truck you could order it without the wheels or frame. Some of the options include a auto-locking hand-truck handle kit, a wheelbarrow handle kit, a lifting kit and a extension cord management kit.
Kohler also showed contractors a new line of four portable trash and water pumps in sizes from 2 to 4 inch diameters. These include the WP2.0, WP3.0, TP3.0 and TP4.0D. All the pumps have  a 360 degree roll cage for extra protection.