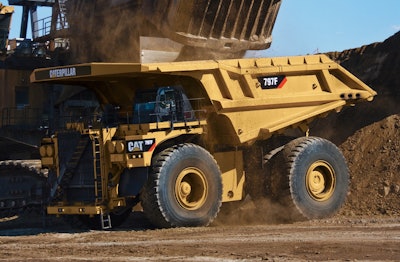 Caterpillar and Shell Canada announced today a partnership that will test a new engine and liquefied natural gas (LNG) fuel mix aimed at reducing operating costs and emissions.
According to the announcement, Cat is developing a "dual fuel" mining truck where LNG displaces most of the diesel power. Cat will test the truck at Shell's oil sands operations near Fort McMurray.
The companies plan to begin testing of these trucks in 2016 with the trial slated for up to one year.
Cat says the testing comes in response to customer demand.
"Many of our customers are asking for natural-gas powered equipment in order to reap the financial and environmental benefits," said Chris Curfman, Caterpillar Vice President for its Mining Sales & Support Division.
Meanwhile, Shell is looking for a way to use Canada's "abundant" natural gas supply in marine and road transportation as well as other industrial situations. To that end, Shell will retrofit existing trucks from its fleet with the new engine and provide a fueling infrastructure at the Shell Albian Sands operation near Fort McMurray.
"With heavy hauling being such a core part of our operation, success with this could make a real difference in our operations costs and emissions," said Shell's Oil Sands VP, John Rhind.