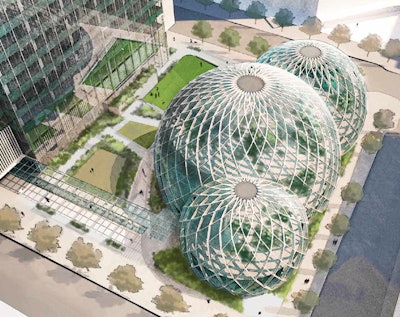 In the latest plans for its planned downtown Seattle campus, Amazon scrapped, what was in comparison, a boring rectangular building complementing its skyscraper office building, and replaced it with a biospheres.
According to a report from GeekWire, the bubbly-looking biosphere will house "multiple forms of plant life as well as mature trees," perhaps giving the company its own version of the rainforest for which it is named.
According to the design documents, the biosphere is meant to give Amazon employees a place to socialize and work "in a more natural park-like setting."
The biosphere will consist of five floors and 65,000 square feet of space and is definitely a worthy competitor to Apple's planned $5 billion spaceship-like HQ.