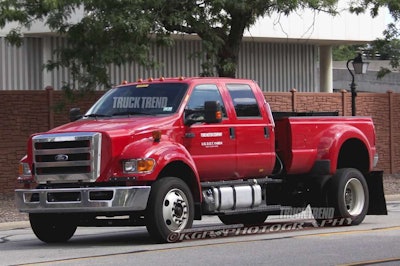 With the 2015 Ford F-150 yet to be revealed, not too many people are concerning themselves with what else the automaker might be working on. Luckily Truck Trend and the guys at KGP Photography are keeping their eyes peeled. Otherwise, we would never have gotten a look at the strange beast you see above.
As Truck Trend notes, there's what the site estimates to be a 16-inch gap between the cab and the bed. In that gap is either a battery pack or a reserve fuel tank. Or, as Truck Trend speculates, that gap could house a hydraulic hybrid system. Much like the Caterpillar 336E H Hybrid Excavator, this F-750 would be powered by a combination of diesel and fluid power rather than electric power. The technology has been in development for some time for commercial trucks but no actual implementation has materialized.
One thing is for sure, this F-750 at least partially runs on diesel because the blue cap of a DEF tank can be seen just below the driver's side door. Truck Trend also notes the odd hood extension, perhaps meaning a possible change in engines. As things stand, the only engine option for the F-750 is the Cummins 6.7 ISB.