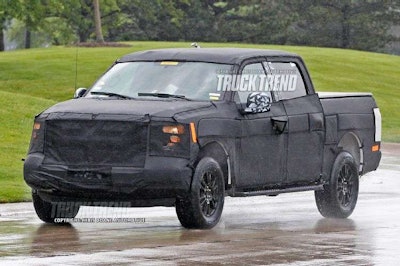 With the last F-150 redesign coming in 2009 and Ford showing off a concept truck named Atlas to gather customer feedback, many have wondered if the automaker is preparing for a design refresh for the 2015 model year. And now it looks as if we have an answer.
Truck Trend has posted a huge gallery of spy shots of a test truck that is believed to be a 2015 F-150. The truck is clothed in black out wrapping in order to obscure peeping eyes and lenses, but some details of the truck's design are still fairly clear. For starters, the shape of the truck's grille is very similar, if not an exact match, to the grille of the Atlas concept truck.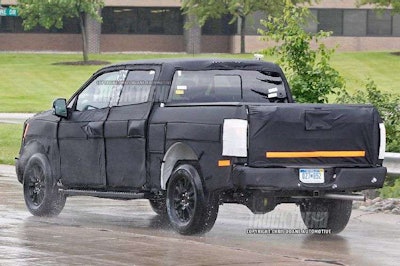 The hood of the cloaked truck too seems to bear similar ridges that fade into the grille just as they do on the Atlas. One noticeable difference is the sliding middle section on the test truck's rear window rather than the retracting full-length window on the Atlas.
But don't just take our word for it. Hit up our gallery of the Atlas and make your own comparisons.
Last month, Ford Truck Group Marketing Manager Doug Scott said the radical design elements of the Atlas were being used to gauge customer feedback. Based on these spy shots that feedback was unsurprisingly positive as the Atlas is a striking truck in all the right ways.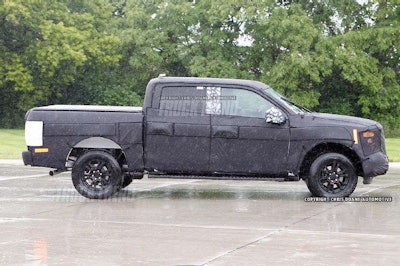 As Truck Trend points out, a design refresh is needed for Ford as GM, Ram and Toyota have all introduced new models with big design changes, with Nissan planning to do the same.
Be sure to check out the full gallery of spy shots at Truck Trend.