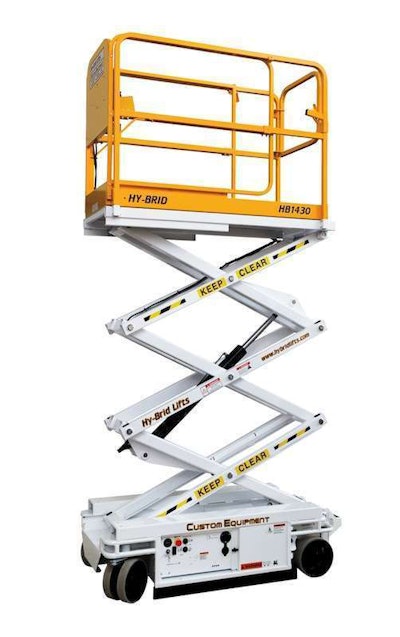 Work at heights of up to 20 feet with Custom Equipment's Hy-Brid HB-1430 scissor lift, designed for construction, electrical work and more.
The heavy-duty lifts feature a lighter weight, with low wheel loads that enable operators to maneuver over finished floors with no damage. The 25-inch-wide by 60-inch-long platforms have 30-inch slide out extensions for increased platform link. The platforms accommodate two people and hold up to 670 pounds, while the extensions have a 250-pound max capacity.
Dual front wheels assist in distributing the machine's weight, and a high-strength steel composition ensures durability without adding unnecessary weight. The HB-1430's hydraulic system is completely self-contained with just two connection points, reducing the potential for hydraulic fluid leaks. The platform has a 25.3-inch entry height, reducing the chance for falls as well as fatigue and knee strains from climbing on and off the lift. An access gate swings completely open for operators to step onto the platform and for loading bulky or heavy materials.
Powered by two 12-volt deep cycle batteries, the electrical drive and steering system require less overall power, ensuring battery life of up to 16 hours. An on-board battery charger self-monitors and stops the current once the battery is fully charged.