The 6.2-liter V-8 powering both the 2014 Chevrolet Silverado and GMC Sierra has been SAE-certified at producing 420 horsepower and 460 lb-ft of torque, making it the class-leading half-ton pickup engine.
When compared to the 6.2 Vortec V-8 in last year's models, the 2014 V-8 boasts 17 more horsepower and 43 more lb-ft of torque. The engine bests Ford's most powerful F-150 engine option, the 6.2-liter SOHC V-8, by 9 horsepower and 26 lb-ft.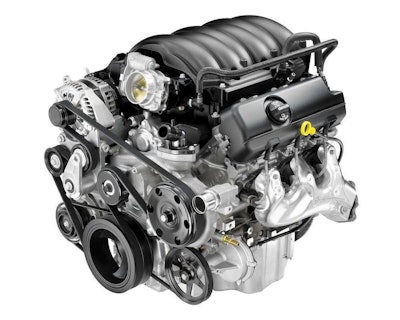 Fuel economy figures on GM's V-8 haven't yet been released.
In its announcement GM says when equipped with the V-8, the Silverado LTZ and High County and the Sierra SLT and Denali models deliver a class-leading 12,000 pounds of towing capacity when properly equipped. That's 700 pounds more capacity than Ford's highest offering in the F-150.
Ford is expcted to unveil the 2015 F-150 later this year and we wouldn't be surprised if the automaker had an answer to GM's most recent boasts.