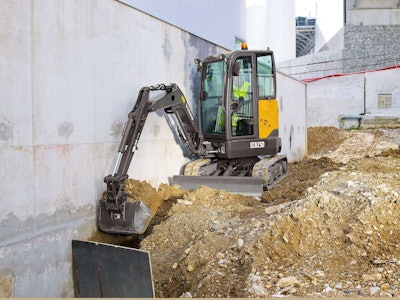 Volvo Construction Equipment's newest machine offers larger machine performance in a compact unit. The ECR25D short-swing-radius compact excavator, weighs just 2.5 tons but achieves a greater breakout force than the 2.8-ton ECR28 it replaces.
With an 8,453-pound combined breakout and tear out force, the ECR25D is useful for a range of applications in confined areas.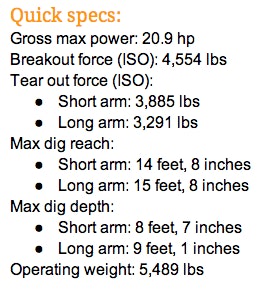 Powered by a Tier 4 interim 20.9-horsepower engine, the machine offers a combination of performance and fuel efficiency, which is also enhanced by an optional auto-idling system that reduces engine speed after five seconds of inactivity. An advanced hydraulic system ensures digging performance, and a flow sharing main control valve delivers fast cycle times.
Addressing operator comfort, Volvo outfitted the ECR25D with an ergonomic cab that includes a large access area, ensuring operators can get in and out without bumping the controls. Cab features include an adjustable seat, ergonomic armrests, large hydraulic travel pedals and operator-friendly controls.
Slew and offset movements are controlled simultaneously with a proportional roller and joystick, and an automatic two-speed travel function allows downshifting when required. Safety is ensured via excellent visibility of the blade, attachment and tracks, and a three-point entry and roll-over protection system.
Serviceability is addressed through ground-accessible check points, with greasing only needed every 50 hours. A wide-opening, lockable hood ensures security.
A variety of packages are available, including long arm and counterweight options, as well as a range of attachments. The Volvo CareTrack remote telematics system that provides work reports, geo-fencing and geo-tracking is available as an option.