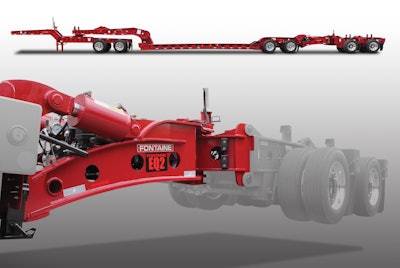 The Magnitude 60 Class trailer from Fontaine Heavy-Haul, which handles 60 tons in 12 feet, now features a two-axle bogie and the company's all-new EQ2 hydraulic spreader.
Designed to be versatile and operator-friendly, the EQ2 tandem hydraulic spreader has a C-link mounting system that enables the spreader to convert from a 14-foot 7-inch to a 16-foot 1-inch axle spread within a matter a minutes.
The trailer's modular design gives operators the option to run in 2+2, 3+1 or 4 axles close coupled. The hydraulic gooseneck connects and disconnects in seconds, and can also connect to the trailer deck on uneven ground.
Additional features include two built-in storage compartments with lockable covers, as well as a wide range of accessories.