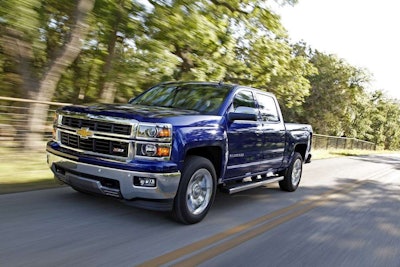 General Motors is working to keep even the playing field with competitor Ford, as well as get out in front of future fuel economy standards by slimming down its full-size pickups, reports Reuters.
The automaker completely redesigned both the Chevrolet Silverado and GMC Sierra for the recently-released 2014 model year. In the process, between 250 and 400 pounds were shed from the pickups—the lightest Silverado weighs 4,387 pounds.
The 2014 Silverado and Sierra V-6 get 18 miles per gallon in the city and 24 mpg on the highway. By 2017, light trucks will be required to average 29 miles per gallon. And by 2025, that requirement is projected to extend to 40 mpg.
Suppliers told Reuters that in order to achieve the weight loss, GM plans to replace conventional steel with more lightweight materials like aluminum and composites. Evidence of that shift will be seen in a "special aluminum intensive version" of the Silverado to be released late next year. The pickup could be up to 250 pounds lighter and offer an improvement to fuel economy of 20 percent.
One supplier told Reuters that GM is working to redesign underbody components to reduce weight and another said the automaker is considering using aluminum and composites in major truck body panels as Ford has begun doing.
However, because GM didn't get the large drop in weight it desires in the latest generation, the complete slimming down likely won't come until the 2019 model year refresh.
Adding to the fuel efficiency of its EcoBoost engine, for the yet-to-be-unveiled 2015 F-150 Ford will reportedly slash 700 pounds from the best-selling truck's body.