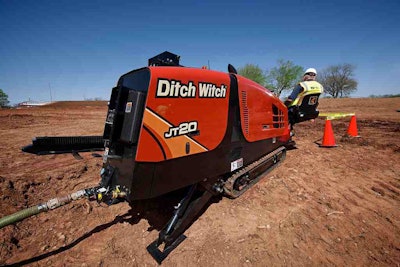 To design a better directional drill for urban and compact jobsites, Ditch Witch recently took its popular JT2020 back to the drawing board and, through some deliberate reengineering, created the JT20.
Ditch Witch says the JT20 was designed to combine compact size with high power ratio. The unit's rack-and-pinion designed delivers 17,000 pound of thrust and 20,000 pounds of pullback force, and a turbocharged 74.5-horsepower Deutz diesel engine produces just 87 dBA noise levels.
[youtube SamCvCiHVEM nolink]
The drill has an automated carve mode that is both easy to set up and adjust, and reduces operator fatigue. A coordinated makeup feature automatically matches carriage speed with rotation during pipe makeup and breakout, increasing the life of drill pipe joints.
A heavy duty anchor system provides stability. The SaverLok System ensures a tight connection and protects against wear and tear on both the drill pipe and drive system.
Additional features include TriHawk HD housings and bits, a cruise control system, an auto-throttle that idles after 15 seconds of inactivity, dual rear independent stabilizers, Sauer H1 hydrostatic pumps, an advanced cooling system and a large capacity automatic drill pipe lubrication system.
The JT20 is compatible with Ditch Witch's TK Series HDD Guidance System.