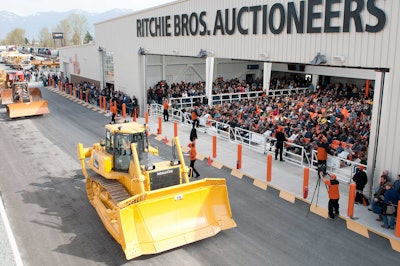 More than 1,000 people attended Ritchie Bros. Auctioneers first unreserved public auction in China with more than 500 registering to bid.
Bidders represented more than 30 countries. Ritchie Bros. says the crowd was mainly made up of local equipment end users from Beijing and the surrounding Hebei province. However, overseas bidders—those from the U.S., United Kingdom, Japan and many more—purchased approximately 17 percent of the equipment offered in the auction.
"Last week's auction in China was a big success," said Stephen Branch, Vice President of sales for Ritchie Bros., in a prepared statement. "We look forward to serving the Chinese and global equipment marketplace from our new site in the Beijing Tianzhu Free Trade Zone, where equipment owners will enjoy the convenience of being in close proximity to one of China's largest ports."
More than 155 unused and used heavy equipment items and trucks were offered in the auction including a selection of 25 hydraulic excavators and 20 wheel loaders.