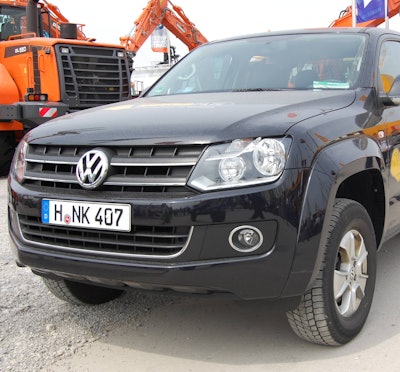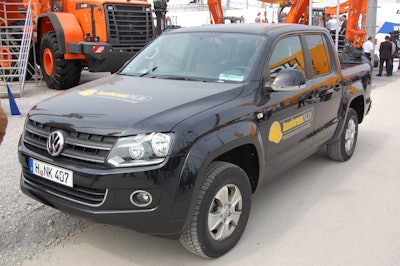 Over at our sister site Overdrive, editor Jack Roberts has posted a very interesting column on the future of Volkswagen. In it, Jack attempts to dissect Volkswagen's past and present in order to piece together what the future might hold for the loved, yet middle-of-the-pack, company.
Jack writes that he keeps a close eye on Volkswagen, especially since an announcement VW made about five years ago that it would begin striving to become the leading automotive manufacturer in the world.
He recounts the ubiquity the automaker enjoyed years ago when, "you couldn't swing a dead cat without hitting a Volkswagen Beetle," as well as the more recent success of the new Beetles, the Jetta and the Tiguan and Touareg SUVs.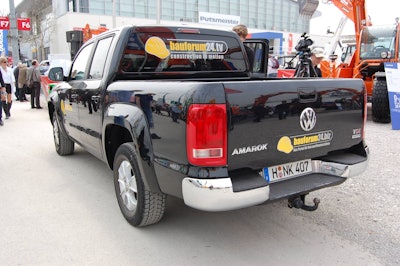 Above and to the right, you'll see photos snapped at the recent Bauma construction equipment show in Munich, Germany by our Executive Editor Tom Jackson. What you see is VW's mid-size Amarok pickup which is available in Europe, New Zealand, Russia and South Africa.
Here in the U.S., the Amarok is the missing piece in VW's lineup. It's not clear how many people would buy a VW pickup here (though it's likely to at least enjoy strong initial interest—especially a diesel package) but if VW has its sights set on being the top automotive manufacturer in the world, it needs to sell a pickup with success in the U.S.
As of November 2012, VW was still in talks with dealers in the U.S. and Canada to bring the Amarok to North American shores.
But a diesel-powered VW pickup isn't the only prospect that should catch the eye of anyone who uses a truck for work. As Jack reminds us in his column, VW also owns European heavy truck manufacturers Scania and MAN. He wonders if VW might consider expanding sales outside of Europe as well.
The whole thing makes for a very interesting, as Jack puts it, "puzzle." Again, if VW wants to achieve its ambitions, trucks are going to have be something it figures out.