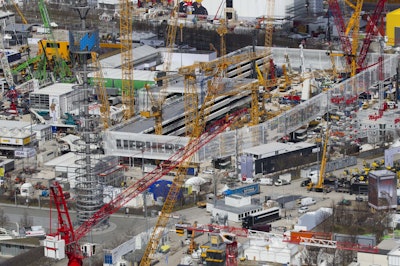 Sixteen exhibition halls. More than 6.1 million square feet of indoor, outdoor and demonstration exhibit area.
Though Bauma, the world's largest construction equipment show, offers quite a bit of equipment to see, it offers much more ground to cover. And all this week editors Marcia Gruver Doyle and Tom Jackson will be pounding the ground in Munich to bring you all the major headlines from the show, which started today.
In the meantime, Ritchie Bros. Auctioneers have analyzed the equipment trends this year as well as what companies and equipment are making an appearance at the show and have posted a simple, five-item list to its blog in order to help you get an idea of what news to expect from Munich.
Number 1 on that list is "fuel-efficient, eco-friendly machines." They mention the Caterpillar 336E H hydraulic hybrid excavator, the new machine we recently hosted a live chat on and Tom wrote an in-depth, first hands-on piece about. Komatsu will have its hybrid excavators at Bauma as well and Liebherr will be showing off hybrid crawler crane.
"Right now, equipment design is hugely influenced by two factors: the need to reduce costs and comply with tougher environmental regulations," the Ritchie Bros. post reads.
Be sure to check out the full post, which also includes a pretty cool video, by clicking here.