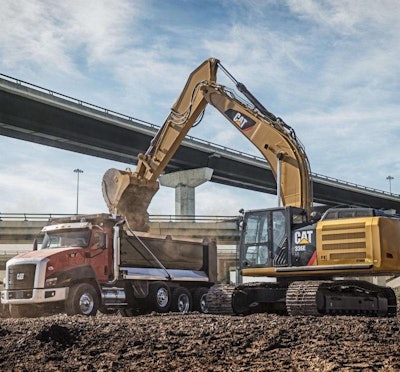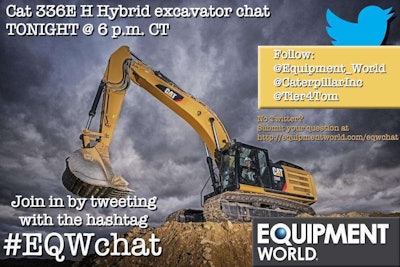 Tonight, at 6 p.m. Central, we'll be chatting up a storm from our Twitter bunker here at Equipment World headquarters as we try to answer all of your questions about Caterpillar's new 336E H hybrid excavator.
We've even launched a new page of the website where you can submit questions and view the chat as it happens.
The 336E H uses a hydraulic hybrid system Cat says provides a 25-percent reduction in fuel consumption compared to the current 336E. And when placed side by side with the previous generation 336D, the hybrid's fuel reduction goes up to 33 percent and could go as high as 50 percent.
Our Executive Editor Tom Jackson operated the 336E H on a recent visit to Cat HQ in Peoria, Illinois. Tom will be on hand to share those experiences live, as well as talk with Caterpillar hydraulic excavator expert Ken Gray.
But we want your input as well. Log on to Twitter and tweet your questions or comments about the 336E H with the #EQWchat hashtag. You'll be able to follow along with the discussion by following these accounts:
And if you don't have a Twitter account, we've still got you covered! Simply head on over to equipmentworld.com/eqwchat. From there you can view a live stream of tweets as the chat unfolds and fill out a form to submit your question.
And if you're a Facebook user head to facebook.com/equipmentworld and submit your question or comment there.
We'll see you tonight at 6!
Disclaimer: Due to the fact that Caterpillar Inc. is in its formal quiet period leading up to the release of first quarter financials, and the subject matter experts present, only questions related to the 336E H Hybrid Excavator will be addressed during this live chat. All questions will be screened, and due to time constraints, we will not be able to answer every question that is submitted.
Tonight's special guest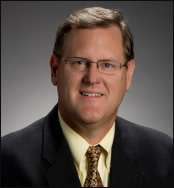 Ken Gray is the Global Product Manager for Large Hydraulic Excavators for Caterpillar's Excavation Division. In his leadership role, Ken is responsible for managing all facets of the product line—from product design and production capacity to geographic sales strategies and order-to-delivery performance.
Ken has been with Caterpillar since 1984 and earned both his Master of Science degree and his Bachelor of Science degree, with Magna Cum Laude honors, in Mechanical Engineering from Bradley University in Peoria, Illinois.