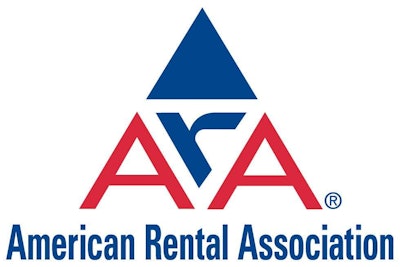 The American Rental Association Monday announced the ARA Equipment Rental Penetration Index, designed to estimate how much equipment goes through rental channels.
"This is an extension of our estimate of rental revenues," says John McClelland, ARA Vice President of government affairs. The index is designed to give rental companies a tool to measure the amount of equipment rented as a percentage of total construction equipment sold.
The index is derived using U.S. Census data to calculate a value-based measure of the construction fleet. Using this value as the denominator, and rental fleet original equipment cost as a numerator, ARA says it can estimate an index that is "value-based and accounts for flows of equipment into and out of the fleet and for the stock of equipment in the rental and total construction fleets."
The index is "designed to create a way for rental companies to measure how much potential market exists versus the current market," says ARA.
Using the index formula, ARA says rental penetration has grown from 40 percent in 2003 to 50 percent in 2011. During the recession the index slipped 5 percent, which ARA attributes to idled equipment by rental companies.
"This gives us a better idea of what's happening on the ground," McClelland says. "Our rental revenue forecast tells us what's being paid for the fleet, but it doesn't take into account idled fleet. And we know that equipment is being used in the same types of ways, whether its rented or owned. We wanted to establish the total construction fleet value and how much of that fleet value was going to rental. Looking at just the number of units being sold didn't make sense, because there's such a wide range of value in construction equipment — for example, the value of a large mining truck compared with a skid steer."
ARA says it does not plan to issue the index by machine type.