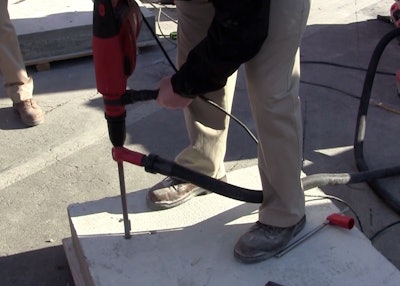 [youtube be_cbdqUr-U nolink]
If you've ever suffered the dusty blowback of cleaning out a just drilled hole in concrete with compressed air, you're going to love the new Hilti HIT-HY 200 system.
At the heart of this system is a hollow drill bit that hooks up to a vacuum to evacuate the dust from the hole while you are drilling in concrete. As soon as you finish drilling, the hole is ready for anchors and epoxy — no brush and blow to clean the hole is necessary. Check out the video above to see what I mean.
The TE-CD and TE-YD hollow drill bits are available in diameters up to 1-1/4 inch and run cooler and last approximately two times longer than conventional concrete drill bits.
Another time-saving innovation, the Hilti HIT-Z anchor rods use a helical screw design that holds better in conventionally drilled holes when placed with the company's HIT-HY 200 System epoxy.The company also showed new robotic total station, the POS 180 and POS 150 and two total stations the POS 18 and POS 15. The robotic systems aid in laying out 3D plans, checking positions and taking measurements for drawing up building plans. They are BIM compatible and come with a hand held digital controller. The total stations are used for laying out positions and levels for formwork and excavations, fastening points on floors and ceilings, tranferring control lines, and points and as-built measurements.
A long term goal for Hilti is to eventually create a cordless jobsite, says Cary, Evert, president. That means increasing battery power and longevity and to that end, the company showed off it's latest cordless hammer drill, the TE 30-A36. Powered by a 36 volt/6 amp battery, the TE 30-A36 at Hilti's World of Concrete demo site was drilling up to 35 holes, 3/4 inch in diameter, between battery changes.
The key to upping the power and performance of its cordless line is a combination of brushless technology and mechanical efficiency. In the near future the company hopes to migrate this high performance cordless technology into power hungry tools such as grinders and saws.