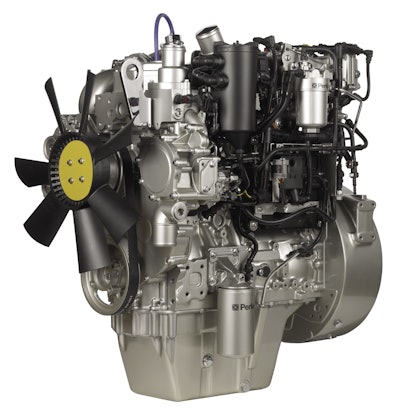 LAS VEGAS—John Deere Forestry and Construction showcased its latest "bright ideas" at a Feb. 5 World of Concrete 2013 press conference: the 644K Hybrid wheel loader and the new E Series line of skid steers and compact track loaders. The manufacturer refers to the introduction of the new machine as a "bright idea" because it was developed using the culmination of show floor input, Deere's "Chatterbox" customer feedback program and in-the-field comments.
The new loader uses two sources of energy — diesel and electric – capturing regenerated energy as it's being created and uses it to power the machine.
The 644K Hybrid is equipped with a John Deere PowerTech 6.8-liter Interim Tier 4/Stage IIIB engine that runs at an operator-selected constant speed from 900 to 1,800 rpm. The hybrid has a net 229 horsepower and is equipped with all the key features of the conventional John Deere K-Series Wheel Loader line. (See the spec list at the bottom of this post for an at-a-glance look at the machines features.)
The engine size is actually smaller than a conventional wheel loader in that it runs at a constant engine speed. "It always has full power and creates electric energy," John Chesterman, global product marketing manager for four-wheel drive loaders, John Deere Construction & Forestry, told editors at the press event. All the energy travels through three distinct orange cables. (For a video interview/walkaround of the 644K Hybrid with Chesterman, go to www.Facebook.com/BetterRoadsMagazine.)
The simplified transmission does not have a reverse gear. It's not needed. The 644K Hybrid has four operating speed ranges, but no reverse gear or clutches as direction changes are performed by the electric motor.
Four main components pace the 644K's electric-drive technology – the generator, inverter, motor and brake resistor.
Like conventional K-Series Loaders, a Sealed Switch Model (SSM) gives fingertip control of keyless start and 24 other machine functions. New to the SSM are engine speed adjust and coast control. The coast control feature allows the operator to enable dynamic braking through the SSM, reducing mechanical brake wear.
The machine's generator is brushless and converts the rotational energy from the engine into three-phase alternating current (AC) electrical energy. It can also be driven as a motor to use recycled energy to drive hydraulics and save fuel.
The water-cooled inverter is a solid-state electronic system that delivers electrical energy to the motor.
The single electric motor is also brushless and converts three-phase (AC) back to rotational energy and torque. It replaces the job of a torque convertor, but can also work as a generator to recycle energy back into the system.
Because of the way the engine operations, the machine runs two decibels lower than the Interim Tier 4 model. A 3-decibel reduction is 50 percent quieter, which makes the lower level of noise significant.
The water-cooled brake resistor passively consumes energy whenever the power electronics actively control its circuit and is only needed to consume excess recycled energy.
The hybrid wheel loader is going into production now and should be on dealer lots in March, Chesterman said.
Deere also introduced another "bright idea" with its new E-Series line of skid steer loaders and compact track loaders (CTLs). The new line includes five skid steer models and four new compact track loaders, each with Interim Tier Four or Final Tier Four engines.
"The E-Series skid steers and compact track loaders are one of the finest examples of customer-driven product development the John Deere Commercial Worksite Products group has ever offered," Gregg Zupancic, product marketing manager, John Deere Construction & Forestry, told editors. "We asked hundreds of customers how we could make this equipment better. They told us, and we responded."
Zupancic says the improvements made to the E-Series skid steers and CTLs are the result of extensive market research and John Deere's Customer Advisory Group (CAG) process, which solicits input and ideas from customers. For the E-Series, customer input largely dealt with areas of the machines that improve on uptime, productivity and a lower daily operating costs.
The large-frame skid steers and CTLs feature a flat floor design with 25 percent more foot room than previous models. All models in the line include low-effort electro-hydraulic (EH) controls for additional comfort and ease of operation. The EH controls are available for ISO, H, and foot control patterns. In addition, the E-Series features an option to allow the operator to switch between all three previously mentioned industry control patterns.
Other new standard features include connect-under-pressure auxiliary hydraulic couplers, and a new courtesy lighting feature that automatically shuts the machine lights off after operation.
The mid-frame models have been improved to enhance performance and make the machines more versatile. The optimized boom design provides best-in-class boom and bucket breakout throughout the lift path. It also offers greater reach at truck-bed height and increases lift height to the hinge pin, Zupancic noted.
These size models also include the option for switchable controls to allow operators to choose between foot pedals, ISO and H-pattern. Other options include a new keyless start feature and a ride control option that cushions the boom under heavy load for a smoother ride.
The skid steers and CTLs are powered by Yanmar 3.3 or 3.1 liter diesel engines. The large-frame model engines provide up to 10 percent more horsepower than the previous D-Series models. Engines with more than 75 horsepower will meet Interim Tier 4 emissions requirements, while engines less than 75 horsepower will be Final Tier 4 compliant. The engines in all E-Series models feature cooled exhaust gas recirculation (EGR) with an exhaust filter consisting of a diesel oxidation catalyst (DOC) and diesel particulate filter (DCF).
The E-Series consists of nine total models. In skid steers, there are three large-frame models (326E, 328E, 332E) and two mid-frame models (318E, 320E). In CTLs, there are two large-frame models (329E, 333E) and two mid-frame models (319E, 323E). All models will be compatible with more than 100 available Worksite Pro attachments.
–by Tina Grady Barbaccia, Better Roads, Executive Editor, reporting live from the World of Concrete 2013 in Las Vegas
A quick look at the 644K Hybrid specifications
| | |
| --- | --- |
| | |
| Engine Emission Level | IT4/ Stage III B |
| Displacement | 6.8L (415 cu. in.) |
| Net Peak Power hp (kW) | 229 (171) |
| Transmission Type | Hybrid-electric drive |
| SAE Operating Weight lb. (kg) | 40,436 (18,341) |
| Tipping Load – Straight lb. (kg) | 31,061 (14,089) |
| Tipping Load – Full Turn lb. (kg) | 26,992 (12,243) |