SEVENTY TONS
The Trail-EZE TE120-OF59 was specifically designed for the oilfield industry. This 59-foot trailer is rated at 70 tons evenly distributed and features a 45-foot bottom deck. It features a removable neck, air-activated bed rollers, a 10-inch tail roll and a 120,000-pound concentrated capacity.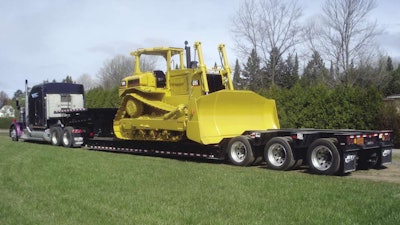 HYDRAULIC GOOSENECK
Jet's 51-ton Detachable Gooseneck Trailer is available in three models: 43 feet, 53 feet with a 26-foot deck and 53 feet with a 21-foot deck. Jet says these trailers haul a variety of equipment and feature air ride suspension, a low deck height and heavy duty tie downs.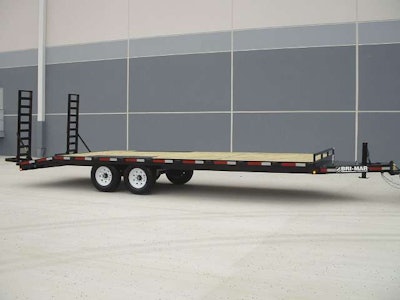 SMALLER EQUIPMENT
Bri-Mar's EH284-14 trailer features a gross vehicle weight rating (GVWR) of 14,000 pounds. That means it can carry up to 9,500 pounds of your equipment and materials. Meanwhile, the EH284-16 features a GVWR of 16,000 pounds. Both trailers feature a 24-foot bed, treated 2-inch by 8-inch decking lumber and a choice of standard ramps or split landscape gates. These trailers haul wheel loaders, skid steers and small pavers, excavators and backhoes.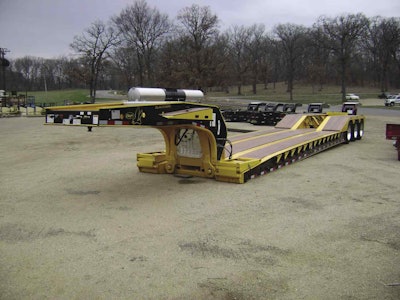 BLACKHAWK
Etnyre's Blackhawk hydraulic detachable gooseneck features a capacity of 55 tons evenly distributed thanks to a construction of four I-beams made of T-1 steel. It has a platform length of 24 feet with front-folding ramps that measure 41 inches long. The hydraulic system is powered by a 13-horsepower Honda Power Pack and Wet Line with dual operation.
AIR RAMPS
Felling's air ramp technology is able to lift in excess of 5,000 pounds and is available in 36-inch, 45-inch and full-width options. Trailers with capacities as small as 20,000 pounds and as large as 100,000 pounds have been outfitted with these systems. Felling air ramps operate via an air bag system that works off of the same air supply as the brake system, allowing any air-brake-equipped truck to operate a Felling trailer equipped with this system. Felling says these air ramps have lower maintenance costs over time and also eliminate the possibility of environmental cleanup issues associated with hydraulic ramp leaks.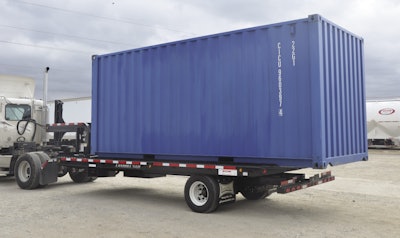 LIGHT DUTY
Landoll's Model 342 trailer is a light-duty gooseneck trailer designed to handle empty 20-foot containers. The trailer works well with short single-axle tractors and comes standard with a fifth-wheel king pin, seven-way electrical connection and a single air brake axle. The lower deck measures 23 feet while the overall length is 31 feet and will legally handle up to 25-foot long containers. It comes standard with a chain-drive load system, loading bridle, tie-down chains, push bar and container side pin lock-downs.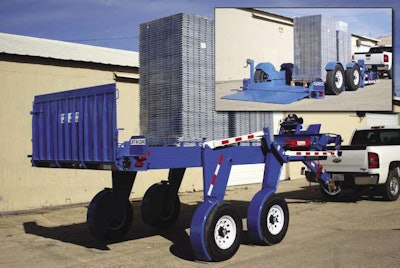 PORTABLE LOADING DOCK
Advance Metalworking's Lift-a-Load Elevating Platform Trailer is a hydraulic elevating trailer designed to make deliveries safer, easier and more efficient. The trailer both lowers to ground height and elevates to dock height, or approximately 52 inches high. The company calls the trailer a "portable loading dock" and says when lowered the trailer allows a minimum loading angle ideal for low ground clearance or reduced gradeability vehicles such as fork lifts, sweepers, scissors lifts and more. The trailers are available in several different styles and sizes, from straight tongue to gooseneck hitch, single or dual axle with capacities from 4,400 to 15,000 pounds.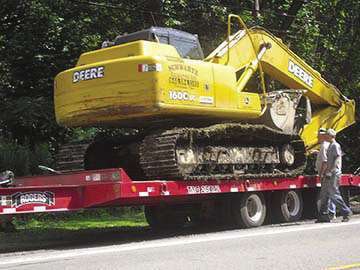 TRIPLE AXLE TRAILER
Rogers Trailers's Tag-Along 25XXL is a 25-ton capacity, triple axle trailer. It features a 22-foot deck with a 6-foot beavertail and an 8-inch angle for a safe, easy loading of a wide variety of equipment. Standard features include a two-speed landing gear, adjustable pintle eye and ABS and spring breaks on all axles.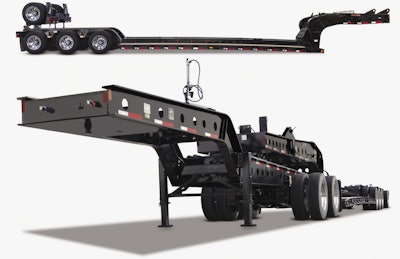 MAGNITUDE MODELS
Fontaine's Magnitude 60 Class handles 60 tons in just 12 feet. These trailers are equipped with 26-foot clear deck length and a loaded deck height of 22 inches and 6 inches of ground clearance. The DSR model (drop side rail) features a 14 1/2-inch loaded deck height. Magnitude 60 class trailers feature a hydraulic removable gooseneck that can be connected and disconnected in seconds as well as two built-in storage compartments.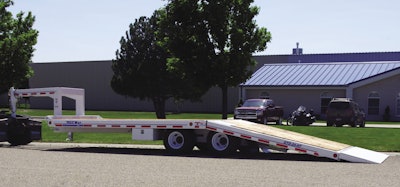 HYDRAULIC RAMP
The TrailMax GTD-24-HT is one of eight models in the company's HT Series line. It features a full-functioning hydraulic tail that includes a secondary flip-out ramp and a 12-degree load angle. The hydraulic ramp is designed to lift 10,000 pounds at the center of the ramp. The GTD-24-HT features a GVWR of 26,000 pounds, a high tensile frame construction, 12,000-pound axles and a deck measuring 27 feet by 8 1/2 feet.
FOLDING RAMPS
Trailboss's Paver Special line of trailers are available in a 25-, 35- and 50-ton lowboy and a 20-ton tag-a-long. Custom bed lengths are available with a 6-foot dove tail and 11-foot hydraulically-operated folding ramps which offer a 9.5-degree load angle.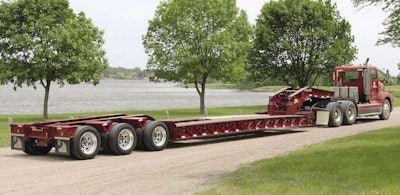 SELF-LIFTING HYDRAULICS
Trail King's Advantage Plus! series of hydraulic detachable gooseneck trailers feature self-lifting hydraulic cylinders, non-ground bearing design and a V-shaped alignment guide. New to the trailer is a 5-position gooseneck door adjustment that allows for an 8-inch range of king pin height settings, plus a notched setting control bar to take the guesswork out of setting the gooseneck doors in the desired position. Another new feature is the pullout front outriggers, which provide extra strength at the pivot point where weight is concentrated during the loading/unloading process. Advantage Plus! trailers are available in 35-, 51- and 55-ton capacities.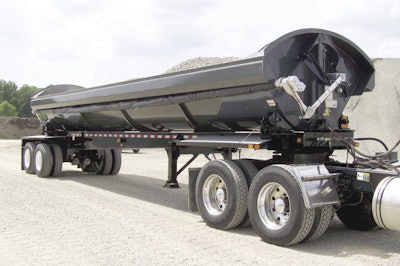 INNOVATIVE SIDE DUMP
Clement's 39-foot SideStar2 discharges its load to either side of the trailer. It features a strong, 34-foot parabolic body of 1/4-inch steel. And the beam body supports wrap the outside body and increase the integrity from rail to rail during the dumping cycle, eliminating the need for an internal divider.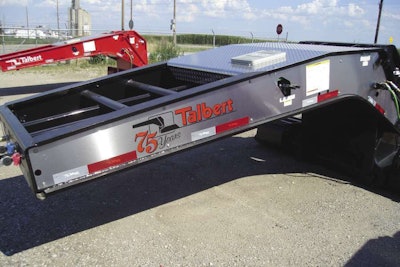 ANNIVERSARY PACKAGE
To commemorate its 75th year of business, Talbert Manufacturing is offering an optional anniversary package on its 55-ton series trailers: the 55CC, 55SA-RC and 55SA-HX models. The basic package includes cosmetic detailing throughout the length of the trailer with Talbert 75th Anniversary decals. Beyond the basic package, options such as aluminum wheels, special lighting and other custom parts and accessories are available.