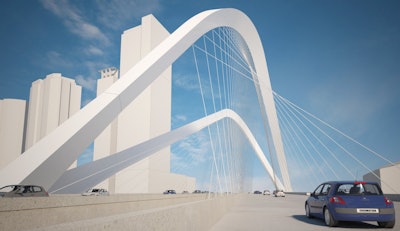 In order to create a more "visually appealing" exit and entrance to downtown Miami, the Florida Department of Transportation is planning on constructing a "flying" bridge on Interstate 395.
The 1.4-mile bridge will rise 40 feet from the ground out of downtown and will connect Interstate 95 to South Beach. The project has an estimated cost of between $500 million and $600 million with construction not scheduled to begin until January 2021.
Other pieces of the project include building new elevated ramps between Interstate 95 and Interstate 395 and "building vertically higher structures that will improve the visual quality of the bridge," according to the FDOT website.
The bridge is currently in the design phase with 5 designs competing, all of which are beautiful and interesting in their own way. You can view them in the gallery below. Which do you think is best? Let us know in the comments.