AEMP ONLINE CERTIFICATION
Now you can study and take the test to become a Certified Equipment Manager without having to travel.
By Equipment World Staff
Sure, you can turn a wrench and keep a few mechanics under you busy. But are you a fleet manager? Do you understand equipment financing, risk management, human resources, warranty and performance guarantees?
To learn about these topics and more, some of the country's most successful heavy equipment contractors train and educate their top fleet people with the programs and conferences put on by the Association of Equipment Management Professionals.
And starting this month the AEMP is making it possible to take the test for its flagship Certified Equipment Manager program without having to travel.
The CEM is the industry's only set of standards for a manager of heavy equipment and municipal government fleets. The curriculum is based on 17 core competencies identified by AEMP as necessary to be an effective fleet manager. (See: Want to be certified by AEMP?, on the next page.)
AEMP University enables aspiring fleet professionals to download the CEM course materials online and study on their own time and schedule. But to take the test in the past you had to attend one of AEMP's two annual meetings.
Now AEMP has contracted with Pearson VUE, a provider of proctored, computer-based testing solutions. Beginning this month Pearson VUE will make the CEM exam available four times a year – two weeks each quarter – at test sites in all 50 states and 165 countries. Pearson guarantees a site within 50 miles of any potential test taker in the United States (test sites are listed at www.pearsonvue.com/vtlocator/).
The cost for the CEM course materials and test is $1,095 for AEMP members and $1,395 for non-members. The exam will still be offered at AEMP's two annual conferences, as well. The benefits of coming to the conferences include networking, participation in the organization's Professional Development Institute and additional high-level education in a host of topics relevant to the fleet manager's job, says Jim Phillips, AEMP vice president and chief learning officer.
The test requires about four hours to complete. The study materials can be mastered in about 30 days if you work hard at it. But Phillips recommends aspiring CEMs give themselves 45 to 60 days to prepare for the exam.
To qualify for the CEM program you need five years experience in equipment management, but AEMP offers two other certifications. The Equipment Manager Specialist (EMS) program is a standard for developing the qualifications of a person involved with an equipment fleet in the first five years of their career. And the Certified Equipment Support Professional (CESP) is a certification program for equipment suppliers.
AEMP University has a total of 82 courses currently online. For more information on membership and AEMP University, visit aemp.org.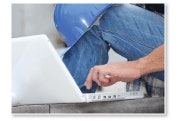 Want to be certified by AEMP?
Here are the 17 areas in which you need to be competent:
• Benchmarking
• Customer service
• Employee training
• Environmental requirements
• Financial management
• Human resources
• Life cycle analysis
• Outsourcing
• Parts management
• Preventive maintenance
• Procurement and acquisition
• Risk management
• Safety
• Shop facilities management
• Specifications
• Technology
• Warranty and performance guarantees
Caterpillar Visitors Center opens

Cat fans can now take a self-guided tour through the history of the company at the Caterpillar Visitors Center, which opened in October in Peoria, Illinois. The center includes interactive displays, exhibits, virtual rides and simulators. Caterpillar's Heritage Gallery includes construction milestones such as San Francisco's cable car system, the construction of the Three Gorges Dam in China and the widening of the Panama Canal, among others. Equipment enthusiasts can see historical machines as well as some of the company's current line up, including the Cat 797 mining truck. The Future Theater enables visitors to get a glimpse of product development, as well as a merchandise center for souvenirs.
The center is open Monday through Saturday from 10 a.m. to 5 p.m. Visit www.caterpillar.com/visitors-center for more information or to purchase tickets online.