Tracks and Tires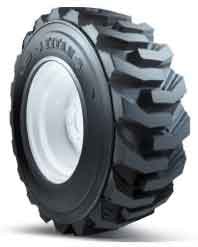 RESIST DAMAGE
The Titan Tire Ultimate tire line for skid steers was designed to provide long tire life and extra tread depth.
• Available in 10-16.6 and 12-16.5 sizes
• High void-to-lug ratio helps with traction
• Heavy sidewall and large rim guard provide damage resistance.
Viisit EquipmentWorld.com/info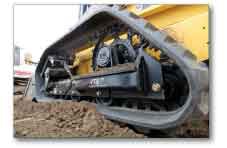 CONVERT TRACKS
The Terex Versatile Track System offers skid steer operators the ability to run their machine with tires or as a full rubber track undercarriage system with suspension.
• Bolts directly to a skid steer's standard hubs
• Rear idler positions the track underneath the machine's ballast for more stability on inclines
• Convert skid steer loaders to a track loader in less than an hour.
Visit EquipmentWorld.com/info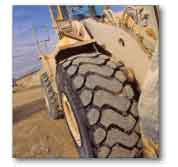 Know when to replace off-road tires
The ideal time to replace tires depends on your operational goals. If you require a certain traction level or plan to retread, replace the tires earlier versus maximizing tire life. To maintain traction levels, replace the tires before the tread is worn away at a point where traction has fallen off. For retreading, consider removing the tire with about 20 percent of the tread remaining, checking with your retreader for its recommendation. This additional tread at removal allows for a clean buffing job and helps protect the casing to increase the likelihood the casing can be retreaded.
If the tires have a lot of work hours on them or are older, it could be more cost effective to run through all of the tread. Otherwise, you risk a possible casing rejection or early failure of the retreaded product. In aggressive situations, consider changing tires before the tread is completely worn away. An upcoming job with many continuous work hours might also dictate a change in tires to make the best possible working situation.
Source: Michelin
CRISSCROSS TREAD
The Goodyear G278 MSD single tire, which replaces the G178, is designed for tough and severe-duty vocational applications.
• Available in 385, 425 and 445/65R sizes in 22.5
• Crisscross tread design provides off-road traction
• Grooved angles with full-width interlocking groove protectors help keep stones from imbedding and drilling into tire.
Visit EquipmentWorld.com/info
MINIMIZE VIBRATION
Rubbertrax offers John Deere tracks, which are built per John Deere engineering specs.
• Have original tread patterns
• Block pad design provides balance and traction
• Puts more rubber on the traveling surface to minimize vibration.
Visit EquipmentWorld.com/info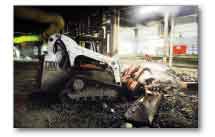 ALL STEEL
Bobcat's all-steel track option for compact track loaders is designed to work in conditions where rubber or rubber-reinforced steel tracks could become damaged.
• Extra weight of the steel track system increases traction
• Similar to tracks used on bulldozers
• Provides durability in abrasive working conditions such as demolition, forestry and earthmoving.
Visit EquipmentWorld.com/info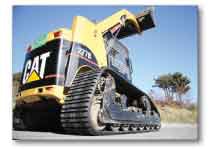 STRAIGHT BAR
DRB America's rubber track design is available for all ASV, Caterpillar and Terex compact track loaders built with non-metal core tracks.
• Has a straight bar, anti-vibration pattern
• Designed for maximum comfort, durability and versatility
• Applicable for turf, mud, soft terrain and concrete.
Visit EquipmentWorld.com/info