Handheld and walk-behind concrete equipment
By Lauren Heartsill
SINGLE OPERATOR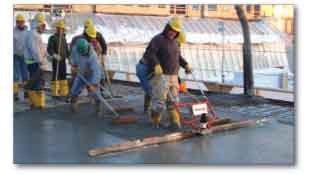 Allen Engineering's E-Screed is a battery-powered, single-operator wet screed used to strike off concrete.
• Battery has zero memory and can be charged anytime
• Distributes uniform vibrations across the blade
• Battery-powered unit can be used with existing Magic Screed blades.
Visit EquipmentWorld.com/info
CLEAN CUT
Dtec's turbo diamond blades, from its Contractor Series, cut materials such as concrete, tile, stone and brick pavers.
• Features a 10-millimeter segment height
• Blade's rim has a break or "relief"
• Available in five sizes.
Visit EquipmentWorld.com/info
Are you using the wrong grinder attachment?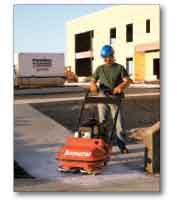 When a surface grinder doesn't perform well, it's often because the operator is using the wrong attachment for the job.
One of the most common mistakes is using silicon-carbide stones to remove or grind floor coatings. The stones will only work for a short time before the stones' pores get clogged and become ineffective.
Instead, use a scraper attachment. To make sure you are using the right attachment, research the applications for each type of attachment before buying or call the manufacturer.
Also, keep an eye on the attachments' wear during use. If you wear down the stone completely and keep grinding with just the remaining aluminum plate holder, the aluminum disc will need to be replaced. By keeping an eye on the wear, you can save on unnecessary replacement costs.
Source: General Equipment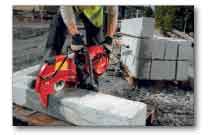 ISOLATED HANDLES
The Hilti DSH 700 and DSH 900 handheld gas saws cut wet and dry concrete, expansion joints, curbs, bricks and concrete blocks.
• Comes standard with a simple rope replacement
• Uses a primer bulb and counter-clockwise starting procedure
• Features isolated handles with metal springs.
Visit EquipmentWorld.com/info
ADJUSTABLE PITCH
Lura's lightning strike concrete screed can be transported on the ladder rack of a pickup truck.
• Pitch of the handle can be adjusted to keep the gas motor upright
• Aluminum tubes offer a threaded-axle coupling system
• Features a 50-cubic-centimeter Honda engine.
Visit EquipmentWorld.com/info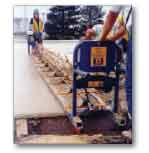 FORWARD TRAVEL
Metal Forms' Speed Screed truss screed uses forward travel by hand winches or hydraulic winches.
• Has positive crown control
• Features lift handles
• Uses a self-contained power source.
Visit EquipmentWorld.com/info
THREE-SPEED
The Husqvarna FS6600 D flat saw is equipped with a three-speed gearbox and uses a Tier-3 engine.
• Control panel has temperature gauge, ammeter, tachometer and
blade clutch switch
• Plunge saw can stack blades up to 6 inches wide
• IntelliSeal blade spindle has four sealed radial bearings.
Visit EquipmentWorld.com/info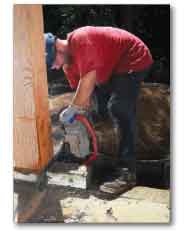 DIAMOND SAW
The ICS 695GC diamond chain saw can handle jobs such as concrete, stone, masonry and ductile iron pipes.
• Uses a 94-cubic-centimeter gas power head
• Weighs 21 pounds
• Power enhancements dampen vibration and sound.
Visit EquipmentWorld.com/info
OPERATE UPRIGHT
General Equipment's DG7 surface grinder allows the operator to work in an upright position for jobs such as concrete grinding and polishing.
• Powered by a 2,300-watt, high-speed grinder
• Weighs 55 pounds
• Features an ergonomic handle so the machine can be operated from either side.
Visit EquipmentWorld.com/info