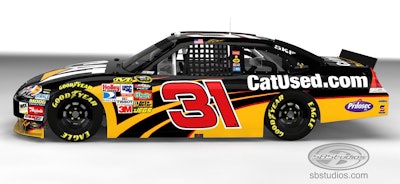 The No. 31 Caterpillar car driven by Jeff Burton, will sport a special CatUsed paint scheme during the upcoming race at Charlotte Motor Speedway. The new paint job supports the first Cat used equipment sale held in conjunction with a NASCAR race.
During Bank of America 500 Week, Oct. 14 through 16, more than 30 Cat machines will be on display and available for purchase at the lot outside Turn 2 of the speedway. Race fans and Cat fans are invited to tour the sale, which features a 100-ton-capacity 777D off-highway truck.
Cat dealers will be available to help customers search the Cat inventory online. Visitors will receive a collectible holographic card showing the car with its new paint scheme.
For more information about the CatUsed sale or to follow the Caterpillar team, visit catracing.cat.com/news.