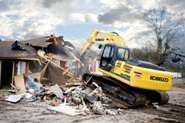 Kobelco Construction Machinery America joined the crew of ABC's Extreme Makeover: Home Edition to place a deserving family in a brand new home. The company provided a Kobelco SK210 excavator to demolish the family's old home during the May 2, 2010, episode.
The excavator demolished the home of the Carr family of Mineola, Texas, before the show's team and more than 3,000 volunteers built the family a new home. Eguene Toole, a customer of Kobelco dealer Bane Machinery, delivered demolition equipment to the site.
With Toole at the controls, the excavator tore through the hingles, plywood trussels and studs, reduing everything to a pile of rubble within minutes. Toole then used a crawler dozer to clear the rubble and build the pad for the family's new 4,800-square-foot home.