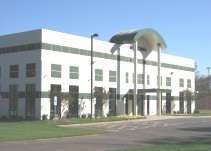 Sennebogen opened its new 54,000-square-foot facility in Stanley, North Carolina, in December 2009. The facility offers a complete inventory warehouse, training center and six bays for shipping and receiving.
The warehouse houses replacement components and parts for distribution to dealers. It keeps an inventory of different hydraulic and mechanical components as well as a selection of engines.
The training center allows Sennebogen staff to educate dealers and customers about machine operation and equipment. Meeting rooms and classrooms are equipped with computer networking and projection, and the upper deck room allows staff to bring machines indoor for further instruction.