Tracks and Tires
By Amy Materson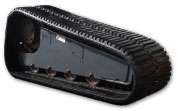 BOOST TRACTION
Minimize vibration and ensure a softer ride with Bobcat's Multi-Bar Lug replacement track for compact track loaders.
• Cut and crack resistant compounds extend the life of the tracks
• Hard rubber outside layer offers cut resistance and traction; softer inner layer maintains flexibility
• Tracks are formulated to carry machine's maximum load at full capacity.
STRENGTH AND STABILITY
Benefit from improved stability with the V-Steel J-Traction radial off-road tire from Bridgestone Americas Off Road Tire.
• Computer optimized center block lowers vibration levels
• Reduced friction between the center blocks and ground improves wear resistance
• Sidewall design enhances cut resistance under heavy loads.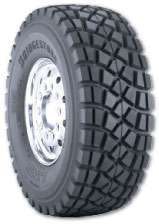 HEAVYWEIGHT HANDLER
Handle extra heavy loads with Bridgestone's L315 on/off highway wide base radial, which can handle up to 24,600 pounds per axle.
• Lug tread and open shoulders promote traction
• Tread compound reduces cuts and chips
• Performs at 65-mph sustained speeds.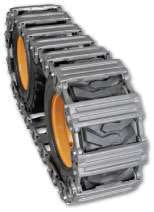 CLEAN DESIGN
Experience a smoother ride over uneven terrain with Grouser Products' FX Series over-the-tire hard tracks.
• Self-cleaning system features a run-loose design and a 50-percent decrease in ground pressure
• Extra weight of the track lowers the center of gravity, improving handling
• Has a long pad life and is economical to rebuild.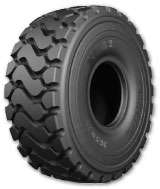 LONGER LIFE
Improve traction with Michelin's XHA2 loader tire, which features a tread design that expels material caught between tread blocks.
• Reduces rolling resistance for improved fuel consumption
• Large contact patch reduces vibrations caused by heavy loads and frequent changes of direction
• Tire lasts up to 9 percent longer than its predecessor, the XHA tire.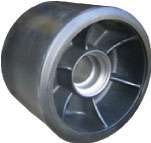 FIGHT FRICTION
Eliminate track wheel bond failures with Xtreme Wheels from Superior Tire and Rubber.
• Compound and adhesion process outlasts OEM rubber compound
• Lower friction between wheels and track prevents weakening and chunking on the edges
• Triples the work life of track wheels.