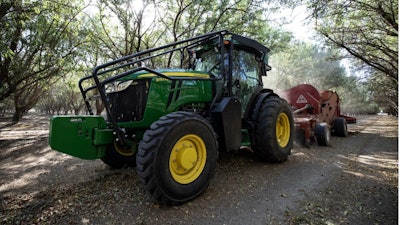 John Deere has widened its lineup of specialty tractors designed for work in narrow orchards and vineyards with the addition of the new 5EN and 5ML Series.
According to John Deere, the 5EN is back and updated with a 5075EN model available in an open operator station or cab configuration. Inside the cab, operators will find AC/heat, ergonomic levers and implement controls, cell phone and cup holders, 12-volt outlet, USB port and a pair of service ports. An air-ride seat is optional. With 75 engine horsepower, the company adds the 5075EN is the highest horsepower that can be purchased that meets emission requirements without the management of diesel exhaust fluid or diesel particulate filters.
[RELATED: AEM reports uptick in 100+ HP 2WD sales in October]
Two transmission options are available for the 5075EN – the 12x12 PowrReverser and the 24x12 PowrReverser with High-Lo. A creeper option on both transmissions lets operators choose the right speed for spraying, mowing, hauling or any slow-speed application. A left-hand reverser is standard, the company says.
Moving up in horsepower and spec level, the 100- to 130-horsepower 5ML Series also gets significant updates.
John Deere says the new 5ML cab provides head-to-toe comfort with a flat floor, spacious headroom, and ergonomic, well-placed controls. A reconfigurable in-dash 3-screen LCD display allows operators to customize their view.
On cab versions of the 5ML, two front-axle options are available for working widths as narrow as 71 in., and down to 61 in., on the 5ML Narrow. Each come equipped with programmable LED lighting, options for a front hitch, and front PTO for added versatility, plus the choice of an easy-to-use PowrQuad PLUS or Powr8 transmission, the company says.
John Deere also notes customers can also choose two new dealer-installed kits. A Cat IV filtration system provides an additional level of cab filtration and pressurization. A new Limb Lifter kit can be added to gently move away low hanging branches, reducing the potential for damage to the tree and tractor.
Integrated technology on the 5EN and 5ML Tractors includes JDLink, which can be used to remotely track machine data, especially useful for customers who operate orchards or vineyards or manage fleets of tractors. John Deere says JDLink helps customers efficiently track equipment location and proactively monitor machine health and productivity. JDLink can also be used to provide job details and work direction to operators.
The 5EN and 5ML are AutoTrac capable, with AutoTrac Universal available on the 5EN, and Integrated AutoTrac through the in-dash display on the 5ML. AutoTrac guidance gives operators the ability to eliminate implement overlap and optimize machine efficiency when completing jobs such as spraying, planting or mowing, the company adds.