Back in November the operator of a Doosan excavator put his machine in idle, got out of the cab and walked away. Moments later the excavator's bucket raised up off the dirt. The machine turned around and proceeded to dig a trench and load an articulated truck—all without an operator in the cab.
The demonstration at Doosan's proving grounds in Boryeong City, Korea was to showcase the company's Concept-X autonomous control system.
In the video above, I take you through the demonstration, go through how the machines work and explain who unmanned machines will be necessary for the future of the construction industry. Below this copy you can see photos of Concept-X models. These are the forms Doosan envisions these autonomous machines taking when they hit the market in the near future.
As for right now, the vision is, as the name implies, just a concept. Full implementation is not expected until 2025. But the fully realized concept will involve not just autonomous equipment, but a 5G network, 3D drone scanning, image and obstacle recognition, cognitive control technologies, autonomous driving, workload estimation and assignment and failure prediction technologies.
"Concept-X is not just an unmanned technology, rather it integrates multiple state of the art technologies that can respond immediately to any and all of the changes that may arise at construction sites simultaneously," says Dongyoun Sohn, Doosan Infracore president and CEO.
In the demonstration we saw, current model machines were outfitted with the technology, but Doosan showed us several futuristic scale model machines of what "cab-less," machines might look like. These included an excavator, a wheel loader and an articulated truck. Doosan officials were reluctant to say whether or not the cab-less models as we saw them will be commercially available. They did acknowledge however that each of the technologies that make up the Concept-X system—5G remote control, 3D drone surveys, work estimation and assignment and failure prediction—will be released individually as they become available.
Drone powered by hydrogen fuel cells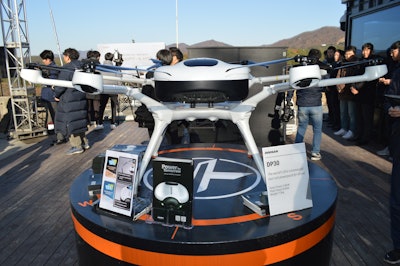 While most of Doosan's Concept-X is not yet commercially available, during the demonstration the company had on display one of its commercially available hydrogen fuel cell powered drones.
There are two drones in the Doosan air force, the DS30 (six propellers, 120 minutes of flight time/5kg payload) and the DT30 (four propellers, 110 minutes of flight time/3 kg payload.)
According to the company the ultra-light fuel cells in the fuel pack provide greater range than any other drone power system on the market. A backup battery on both drones provides redundancy for flight operations and an emergency landing system.
The company's Doosan Mobility Innovation division has been developing miniaturized hydrogen fuel cells power packs for drones, which it says is the most promising application for this technology. The company plans to distribute the products and supplies in the United States through a reseller with experience in drone sales and service.