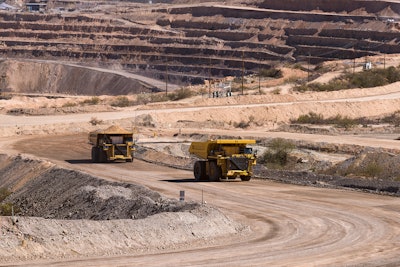 With the deployment of 41 new 930E-5 ultra-class haul trucks, Komatsu will soon have 250 autonomous trucks in service around the world.
The upcoming deployment of trucks will take place at BHP's South Flank iron ore mine in Western Australia. Komatsu's executive general manager of mining for Australia, Leo Kaloglou, says of the 250 deployed trucks, 180 are operating across 3 continents and nine mine sites.
The trucks run on Komatsu's Autonomous Haulage System. AHS is used in four mining applications: oil sands, copper, iron, and coal. AHS manages all of Komatsu's mining trucks around the world.
AHS provides interoperability between both manned an autonomous trucks. This interoperability is made possible by the system's two components: FrontRunner, which manages machine operation and guidance, and Dispatch, which handles fleet management, location tracking and production optimization.
Earlier this year, AHS became the first autonomous haulage system qualified to run on private LTE mobile broadband technology in commercial operations.
You can read our in-depth breakdown of how Komatsu AHS works in our feature article hereour feature article here.
"The operation of FrontRunner AHS technology has been tested across 3 different commodities in three of the harshest and most extreme environments in the world; in ambient temperatures of minus 45 degrees (Celsius), in temperatures higher than 40 degrees and finally at extreme altitude," Kaloglou says. "With over 2 billion tonnes of material moved autonomously—more than all other commercial mining autonomous haulage systems- with zero resulting injuries."