"Hold out your arms."
"That's your wingspan. That's as big as you can get with you two running the company," Dr. Timothy Habbershon, head of the family enterprise unit at the Warton School of Business, told Brax and Steve Wright, second-generation owners of Associated Supply Company (ASCO) in 2002.
That advice was an evolutionary moment for the family-owned equipment dealership, sending them on a journey of leadership development, continuous improvement and growth.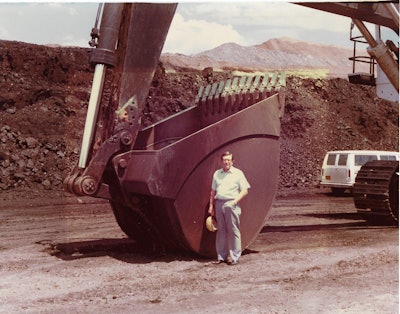 Established in 1960 by Brax and Steve's father, Bill Wright, as a Towmotor Lift Truck dealer and U.S. Army surplus store, ASCO has grown into one of the largest construction equipment dealers in the U.S. It is also the oldest material handling and construction equipment dealership under continuous single-family ownership in West Texas.
Over the years, more family members have come on board - but only after following a stringent process that requires a bachelor's degree, master's degree and three years of service at an outside company. Today, along with Brax and Steve, their sister Paula Wright Key, and third-generation employees, John Wright, Courtney Wright Vanderham and Chase Key, carry on the legacy and values of the business.
"After meeting Dr. Habbershon, we selected 10 team members to be responsible for revenue, profit and holding the family accountable to its core values," says Brax.
"I was just blown away the day those original 10 accepted that responsibility. I got emotional; I finally felt like I didn't need to hold it all together. And we started to grow a lot, organically at first. But eventually, we could start aggressively looking for opportunities."
Growth was aided by acquisitions along the way including Heritage Equipment, Texana Machinery, Hi-Way Equipment and Mitchell and Bourland. The company now has 24 locations and more than 600 employees serving Texas, New Mexico and Oklahoma with Case Construction Equipment as its flagship line.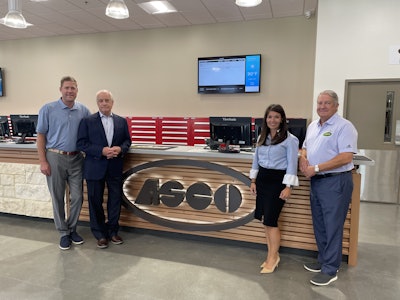 ASCO also represents several other lines of construction, agriculture and material handling equipment, including Doosan Forklifts/Material Handling Solutions, Volvo Construction Equipment, Hitachi Construction and Mining Equipment, Avant, Caterpillar Lift Trucks, Crown, Genie, Gradall, JCB, JLG, K-Tec Earthmovers, Lee-Boy, Link-Belt Cranes, Mitsubishi Forklift Trucks, Sennebogen and more.
ASCO was named Equipment World's 2022 Big Iron Dealer of the Year, an annual awards program that recognizes construction equipment dealers for excellence in meeting customer needs, employing technology, and addressing the parts and service requirements of today's contractors.
As the company has increased in size and services over the years, a lot has changed. What hasn't changed is ASCO's commitment to its core values: Honor God, Develop People, Pursue Excellence and Grow Profitably.
Those values have become a mindset for ASCO employees – and they're hard to miss on the company website, team members' business cards and throughout the walls of the newest facility in Little Elm, Texas.
Customer Focus
For ASCO, making the sale is just the beginning. The service and support are where Brax says the company really shines. That means going above and beyond dealer warranties to help customers.
"If customers come to us, they're not coming to us because we're the cheapest price in town, and we don't want to be," says Brax. "We want them to come to us because they know we have their back once they leave with the product."
Case in point, ASCO's Keep You Going program provides a loaner machine to a customer when a machine is down due to a warranty failure and cannot be returned to operation within 24 hours of diagnosis. In addition, the program covers fluids and filters replaced due to warranty failures, trucking on warranty repairs, freight on parts ordered on warrantable work and travel time on warrantable service work.
"It really sets us apart from our competition," says Brax.
As the third generation influences the direction of the business, Operations Manager Courtney Vanderham says service is still at the heart of the company's digital transformation.
"We're always trying to evolve and find new and better ways to serve the customers faster. For example, telematics helps us diagnose problems more efficiently and an online parts store reduces the time customers spend in the car."
While ASCO has still felt the sting of supply chain challenges, the company's large rental fleet and inventory management processes have helped alleviate some of that pain.
"At least once a month, if not every other week, we're looking at our inventory," Vice President of Sales and Marketing Programs Jon Linstruth notes. "Having much smaller, much more frequent orders so we could have a longer pipeline of product coming in has paid off for us and really helped us through." The company has over $21 million worth of parts in stock across its locations.
"The other part is our rental fleet," adds Linstrust. "Being able to have such a huge basket of goods to sell from when the supply chain dried up has been a huge success for us." ASCO's rental fleet currently includes 3,800 pieces of equipment and attachments. Pre-pandemic the fleet was closer to 4,500 units, the company says.
Despite the many drawbacks of the last couple of years, Vice President Chase Key says one benefit has been deeper relationships with customers.
"There is so much more fleet planning now. You can't just walk in and buy a loader. We have to talk very seriously about service and maintenance in case there is a catastrophic failure. It has changed the relationship; it's more intimate. We're very involved in people's businesses now."
Employee Training and Development
In addition to heavy stocking of parts and rental equipment, ASCO employs over 200 factory-trained certified technicians and has a fleet of 140 field service trucks equipped with the latest diagnostic and repair tools to keep customers up and running. On-site equipment repair services are available 24 hours a day, seven days a week.
While finding technicians has been a challenge, ASCO has taken steps to support technician training and career development.
One example is its partnership with Amarillo College. "Amarillo has about 67% poverty rate. So, most of the people who would benefit from technician career training are already working two or three jobs," says Vanderham.
"We're working to develop a curriculum that will be taught online or at night in our shops. The goal is to make a curriculum that will be able to move from city to city. Because if there are 25 technician schools in 25 cities, that only solves the problem in those geographic areas."
Vanderham has been working in concert with competitors to ensure that the program ASCO develops will be recognized by all manufacturers. "The goal is to reach not just the people directly coming out of high school but that crowd of people who went into a career that maybe wasn't right for them. We want to give them an opportunity to change that path and fast track their career."
And the workforce development ideas aren't just coming from the top. ASCO has challenged their employees to spend 15% of their working time thinking outside of the box. More than a few good ideas have come from fostering a company-wide entrepreneurial mindset.
"We call it the 15% meeting," says Vanderham. "We took a group of 30 next-level leaders and asked them, 'If you could change anything, what would you do?'"
"One of the ideas this last time was to bring in service technicians as interns and pair them with tenured staff to help them transition into the role," says Key. "It's fun to see everybody get excited about the ideas and see them implemented."
Veteran recruiting was another idea that was born out of the meeting – a tactic that not only gets servicemen and women back into the civilian workforce – but equips ASCO with the technician, sales and executive staff talent they need.
When it comes to employee upskilling and retention, ASCO also invests 100 hours per year outside of manufacturer-provided training for each of its staff members.
"We have forty acres in back of our San Antonio store that we're working on building a demo and training site that we can bring our ASCO people in and train them even more," says Central Texas Sales Manager Kelly Mackerer. "Whether its sales training, product training or leadership development, we want to make sure they have the tools they need to be successful, and the company gives us the resources to do that."
Philanthropy and Service
While you won't find it plastered across any marketing materials, one of the biggest motivators for ASCO's success is the ability for the company to give back generously to the community.
"Why we're here is to be a servant to others, whether that's our customers or through our philanthropy," says Brax. "It's really the philanthropy that drives me, but if you're going to do that, you've got to be able to drive the rest."
One of the most notable programs is ASCO's Children's Education Fund. "If you come to work for us, we put your children through college," says Brax. "We write each student a $5,000 education scholarship check for every full semester up to eight undergraduate semesters and four graduate semesters."
To date, the company has invested in 360 individual students for 1,286 semesters totaling $3,635,750 in tuition.
Beyond supporting employees, each branch also organizes a fundraiser for a local 501c3, and the company matches it.
"We try to leave our communities a little bit better than we found them," says Key. "The branches really enjoy that because the money stays in their community."
Equipment World serves up weekly videos on the latest in construction equipment, work trucks and pickup trucks—everything contractors need to get their work done. Subscribe and visit us at equipmentworld.com!