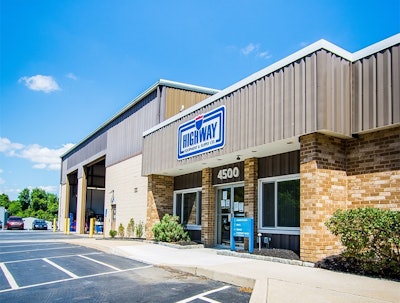 Takeuchi
Takeuchi has added Harrisburg, Pennsylvania-based Highway Equipment & Supply Company to its network of authorized dealers.
Branches located in Harrisburg, Lock Haven, and Ephrata, Pennsylvania will sell, rent and service the full line of Takeuchi excavators, compact track loaders and wheel loaders.
"Takeuchi's quality compact equipment and attachments are a great complement to the products and services we currently offer," said Vince Pagano, senior vice president of Highway Equipment & Supply. "Takeuchi will provide the support we need to be successful, which is just one reason we're so pleased to now offer their products at three of our branches. We're looking forward to introducing customers to the many ways Takeuchi machines can provide value as profitable jobsite solutions."
"Highway Equipment & Supply is a leader in the markets they serve," said John Vranches, division sales manager for Takeuchi-US. "They are a service-oriented company offering a complete array of equipment to support all their customer needs under one roof. Takeuchi is proud to partner with Highway Equipment & Supply, and we feel our alignment will best serve our companies, and most importantly, our customers in Pennsylvania."
Alpha & Omega Equipment Sales Joins Rokbak Dealer Network
Scottish articulated hauler manufacturer Rokbak has partnered with Alpha & Omega Equipment Sales and Rental to expand its presence in the Lubbock and Midland-Odessa, Texas markets. Alpha & Omega will sell and support the RA30 and RA40 articulated haulers.
"Rokbak haulers complement our current construction equipment lines," says Jackie Johnson Sr., CEO of Alpha & Omega. "The trucks look great and there's a real quality to the build. "In Texas, there is over $35 billion of infrastructure projects that will be awarded in the next two quarters. We've already had multiple requests for these haulers and we're confident that the RA30 and RA40 will contribute to the success of our customers' projects and allow us to enter new markets – such as the infrastructure industry."
Rokbak says around 60% of the machines that leave its Motherwell factory are purchased by customers in the United States.
"As we've seen in multiple territories, the Rokbak rebrand has led to accelerated demand in North America," says Rokbak regional sales manager Dan Meara. "And with that level of interest in our products, expanding our dealer network and partnering with reputable dealers like Alpha & Omega is key to getting our haulers working for even more customers.
H&E Opens New Branches in North Carolina and Louisiana
H&E Equipment Services Inc. has recently opened its eighth rental locations in North Carolina and Louisiana.
The new North Carolina branch is located at 160 Ebenezer Road, Statesville, NC 28625-9478, phone 980-391-3001.
The Louisiana facility is located at 4247 I-10 Frontage Road, Port Allen, LA 70767-4149, phone 225-487-3200.
Both locations include a fully fenced yard area, offices, and a separate repair shop and carry a variety of construction and general industrial equipment, including aerial lifts, earthmoving equipment, telescopic forklifts, compaction equipment, generators, light towers, compressors, and more.