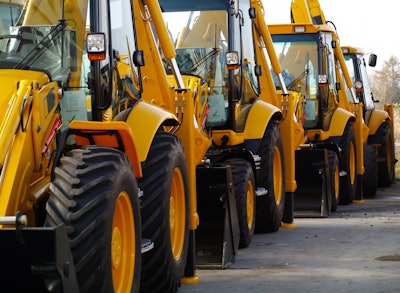 Getty Images
Heavy equipment and industrial machinery software provider e-Emphasys Technologies announced its merger with CDK Global Heavy Equipment in May. Now, the company says it's doubling down on customer support for the dealer community.
The combined entity operates as e-Emphasys Technologies with headquarters in Cary, N.C. Jeffrey Hart, who joined the company in 2022 and was recently named CEO, leads the combined employee base of nearly 700. Both the e-Emphasys and IntelliDealer software suites will continue to be sold to new clients and supported at approximately 4,200 existing dealer locations. Terms of the transaction were not disclosed.
To support the expanded dealer client base, e-Emphasys has named Marc Tedeschi as vice president of customer success and made the following investments:
Addition of new team members with dealership and technology experience, bringing the global Customer Success team to nearly 20. Another 90 associates provide customer service and support from global support centers, with the primary one located in its Cary headquarters.
Expansion of dealer community groups with a tailored approach to OEM/equipment brand dealerships that promotes best practices and deeper product adoption and optimized use.
The launch of new software that provides an overall health score for each client, so team members have real-time insight into each engagement and receive actionable alerts to address needs quickly.
Implementation of a new CRM system for information about client satisfaction, product design, user experience and functionality improvements.
e-Emphasys will host separate user conferences for each platform. The Evolve User Conference for those with e-Emphasys ERP will be held Sept. 11-14 in Nashville, Tenn. The IntelliDealer user conference will be held in early 2024 and will be announced once the dates and location are confirmed.
"We exist to support our clients in helping to literally build and deliver tangible value across the globe, so we want to invest in the best people, processes and technologies to remove friction and support their success," said Hart. "A one-size-fits-all approach doesn't work in customer service and support because each client has its own benchmark for success. We're dedicated to helping every client be more efficient and profitable by providing the right technology and associated services to remove their pain points and be prepared to address both future challenges and opportunities."
"Whenever we engage with a new or existing customer, we work to understand what each of their finish lines looks like, and most important, we know how to get them across smoothly," added Tedeschi. "Greater access to our own critical data intelligence shows us ways to improve each unique customer experience. New tools and opportunities to meaningfully engage will strengthen every client relationship, so we're always viewed as a trusted partner in realizing their key objectives."