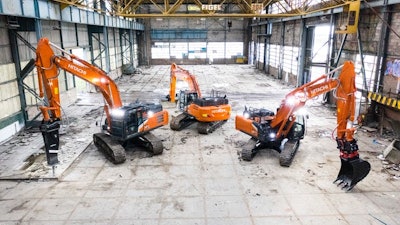 Hitachi Construction Machinery Americas
General Equipment & Supplies, Inc. will now represent the full line of Hitachi wheel loaders and excavators across its locations in the majority of Minnesota, the construction line of excavators and wheel loaders in South Dakota and mining equipment in Northern Michigan.
"We are not just trying to provide our customers the next piece of iron. At the end of the day, they are coming to us with a problem, and we want to provide a solution," said Jon Shilling, president and CEO of General Equipment & Supplies, Inc. "We're extremely excited to represent this brand. It allows us to provide customers high-quality equipment solutions that complement existing products."
Starting with one location and 22 employees in 1984, General Equipment & Supplies, Inc. has grown to more than 250 employees in 10 U.S. locations including Fargo, Minot, Bismarck and Williston, North Dakota; Sioux Falls and Rapid City, South Dakota; Shakopee, Duluth and Hibbing, Minnesota and Urbana, Iowa. The dealer also has two locations in Canada in Regina, Saskatchewan and Winnipeg, Manitoba.
"Since we added our Hitachi-branded excavator and mining equipment to the North and Latin American markets to go along with our well-established lineup of wheel loaders, we've been able to establish dealer partnerships with some of the leading equipment distributors in the industry. General Equipment & Supplies, Inc. is a perfect example of that," said Al Quinn, CEO of HCMA.
LiuGong Partners with Broadhead Equipment
Broadhead Equipment, formerly known as JES Equipment Solutions, is the latest dealer to join the LiuGong North America dealership network.
The Sumiton, Alabama-based dealership was founded in 2019 with just a service truck and two bulldozer engines and has since expanded to sell tractors, zero-turn mowers, and construction equipment. Owner Richard Broadhead has more than 35 years of experience in the industry, with about half as an independent contractor and the other half with another industry firm.
Welcoming Broadhead to the dealer network, LiuGong North America President Andrew Ryan said: "We are incredibly thankful to reach this agreement and are excited to work with them moving forward. Broadhead Equipment has grown quickly in just a few years, and we're excited to see how we expand together in the future."
"I'm hoping to take this to the next level, leave a legacy for my family and let this thing grow and grow," Broadhead said.
Broadhead's territory extends across the northwest quarter of Alabama, from Birmingham north to the Tennessee line and west to Mississippi. Broadhead Equipment serves several industries, including construction, mining, landscaping and municipal.
MANUFACTURERS & SUPPLIERS
Bobcat Opens Atlanta Aftermarket Parts Distribution Center
Bobcat has expanded its nationwide aftermarket parts distribution center network with the opening of a new, 396,000-square-foot facility in Atlanta.
The new facility, located in the West Fulton Commerce Park, celebrated its grand opening January 25. It joins the company's existing parts distribution centers in Reno, Nevada and Woodridge, Illinois. Between the three locations, Bobcat's combined warehouse footprint in North American is now 896,000 square feet.
Bobcat says the Atlanta PDC provides Bobcat dealers and customers with enhanced service options, increased inventory and faster parts delivery.
"The opening of this new facility in Atlanta is reflective of Bobcat's growth and our ongoing commitment to providing a level of service befitting of a longtime, industry leader," said Mike Ballweber, president of Bobcat Company North America. "This facility is intentionally located in Georgia so we can support the businesses of our customers and dealer partners throughout the Southeast region and beyond – all while providing them with greater parts availability and faster deliveries."
The Bobcat PDC facilities are managed and staffed by APL Logistics. The Atlanta location employs 85 people.
Stellar Industries Opens Parts Distribution Center
Stellar Industries has announced the opening of its new 20,000-square-foot parts distribution center in Mason City, Iowa.
"Due to an increasing demand for service parts, we decided in 2020 that in order to continue to satisfy our customers' expectations, a separate service parts warehouse was needed," says Nick Anderson, Customer Service Manager at Stellar. "Our new PDC adds value for our customers by increasing the amount of designated service parts in stock and by speeding up the shipping process. Our end goal was to be able to fulfill the majority of service part orders in 24 hours or less."
The company worked with a team of manufacturing engineering students from Iowa State University to design the warehouse and determine which parts to stock. A designated four-person shipping team uses the latest packaging and shipping equipment, and most of the orders are shipped in under 24 hours with many shipping the same day.
"Our shipping metrics show just how much of an impact the PDC has made," continues Anderson. "The average lead time to get a service part shipped has dropped by over 6 days from where it was in January 2022 to where it is currently. We are thrilled to be able to provide such prompt and efficient deliveries to our customers — all backed by outstanding customer service."