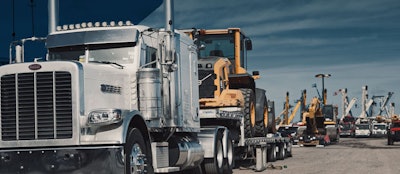 VeriTread
Ritchie Bros. has acquired a controlling stake in VeriTread, a transportation technology and services company.
Founded in 2013, VeriTread is designed to connect shippers and service providers. The company's products include a marketplace for listing and quoting shipments, an in-house brokerage to handle complex and urgent freight deliveries, detailed equipment specifications and proprietary freight estimator tools, and more.
Previously Ritchie Bros. owned 11% of VeriTread. The acquisition has increased its stake to 75%. Ritchie Bros. says the move will accelerate its marketplace strategy, which brings services, insights, and transaction solutions together to improve the overall customer experience.
"VeriTread adds to our suite of services supporting the needs of equipment owners throughout the equipment lifecycle. At the same time, it also helps create a more efficient global marketplace by integrating transportation solutions directly into our new marketplace technology," said Ann Fandozzi, Ritchie Bros. CEO. "VeriTread, in combination with our satellite yards, will allow us to further scale and accelerate our hybrid marketplace model through increased capacity optimization and seamless customer experiences."
"VeriTread is thrilled to become a bigger part of the Ritchie Bros. marketplace, helping customers and the company transport equipment more efficiently," said Jeff Cox, founder, president and CEO of VeriTread. "Together we are focused on delivering an extraordinary customer experience, with trustworthy and reliable transportation for heavy equipment, vehicles, and other industrial assets. We are nimble, flexible, and can't wait to get started!"
Thunder Creek Equipment

McCann Industries Named Thunder Creek Dealer
McCann Industries, an equipment dealer with nine locations throughout the Chicago metro, Northern Indiana, and Southwestern Michigan area, has added Thunder Creek Equipment fuel and service trailers to its product offerings.
Thunder Creek Equipment designs and manufactures diesel fuel and service trailers and maintenance products that are used in a variety of industries including construction, roadbuilding, oil and gas, and utility construction.
"We work in and represent one of the most dynamic and diverse construction regions in the country, serving everything from road and bridge construction to concrete and residential," says Jim McCann, CEO, McCann Industries Inc. "Adding Thunder Creek to our offering gives fleet managers and business owners a powerful tool for managing their own fueling and service schedules — all built on a platform that largely doesn't require a HAZMAT endorsement or CDL in select configurations. This is a powerful fleet management platform now available to our contractor partners in the region."
H&E Equipment Services

H&E Equipment Services Opens New Florida Branch
H&E Equipment Services has opened its twelfth branch in the state of Florida, located at 6625 Babcock St. SE, Malabar, Florida.
The Palm Bay area branch rents aerial lifts, telescopic forklifts, earthmoving machinery, compaction equipment, generators, compressors, and more from the following manufacturers: Bomag, Case, Doosan, Gehl, Genie, Husqvarna, JCB, JLG, John Deere, Kubota, Link-Belt Excavators, Skyjack, SkyTrak, Towmaster Trailers, Wacker Neuson, Yanmar, and others. It includes a fully fenced yard area, offices, and a separate repair shop and is capable of handling a variety of construction and general industrial equipment.
"H&E is expanding throughout Florida and has opened four new branches in the state in just this year alone. With the addition of this newest branch on the Atlantic coast, our Palm Bay location creates a service triangle with our existing Orlando and Lakeland branches to effectively locate fleet to fill any customer need. We can also better reach our customer base in Cocoa Beach, Melbourne, Palm Bay, Vero Beach, and all along the coast of Central Florida with our close proximity to I-95," says Branch Manager Stephen Bone. "In the next five years, this area will see nonresidential construction increase to the tune of over $9 billion, and we will have a good mix of equipment available to serve any project. We plan to grow right along with our customers."
MANUFACTURERS & SUPPLIERS
Trimble Acquires Ryvit
As Trimble continues to expand the capabilities of its Trimble Construction One cloud platform, it has announced the acquisition of Ryvit, an integration platform-as-a-service provider for the construction industry.
Ryvit processes millions of data records daily between different construction technology partners, enabling information sharing both within and across organizations so that project teams can make better decisions, says Trimble. All current Ryvit integrations will continue to be supported as part of Trimble Construction One.
The primary offerings from Ryvit will be undergoing a rebrand to Data Xchange and App Xchange. Data Xchange represents the contractor tools that allow end users to configure and manage their data flows between connected systems. App Xchange serves as the developer's command center for connecting systems, building pre-configured dataflows, and onboarding new customers.
"Ryvit has been relentlessly focused on transforming the construction industry into a more productive and profitable industry powered by data," said Tom Stemm, chief executive officer of Ryvit. "Over the past seven years, we've done this by building a platform that connects data between some of the industry's largest technology providers to improve efficiency and streamline workflows for construction. Trimble is similarly focused on becoming an industry-leading open platform provider so this acquisition is a perfect match for both companies, who share a similar mission and vision for the industries we serve."
"The construction industry today is stymied by disparate data and technology solutions that don't connect with one another, making it difficult to share information across departments and amongst project teams," said Pete Large, senior vice president, Trimble Construction sector. "Ryvit provides a platform for software solution providers and construction stakeholders to rapidly build and deploy workflows, enabling the automatic flow of critical information across organizations and teams in real time. At Trimble, we believe that openness and interoperability are imperative to the future of the construction industry and are excited to extend Ryvit's capabilities to more customers, applications and partners as we move the construction industry forward."
Walz Scanner Receives NTEP Certification
While truck and rail scales require vehicles to stop to provide load weights, the Walz scanner can provide accurate load volumes while the vehicle is in motion.
This dynamic operation is ideal for operations looking to increase vehicle throughput and track materials by volume, the company says.
The scanner, which uses laser technology to scan and measure bulk material loads, has achieved an NTEP trade certification for its volumetric measurement technology. The certification is the first of its kind in the United States and verifies the Walz scanner to be the most accurate volumetric bulk measurement system on the market.
Walz says the NTEP legal-for-trade certification provides the opportunity for operations to use the scanner in replacement of or in conjunction with their current scales.