Machine technologies and digital communication tools have redefined the game of selling heavy equipment — new players, new tools and some new rules now apply, even though the basic construction playing field is familiar.
The question dealer principals and sales managers have to answer is: What will make my team more effective than my competitors?
We went to a 50-year-old veteran sales coach, two savvy sales managers with about a decade each in the industry, and a data technology expert to identify relevant, practical strategies for improving sales in an environment much different from the one you may have sold in just a few years ago.
"The biggest thing that has changed is the accessibility of information," says sales trainer Troy Harrison, founder of Troy Harrison and Associates. "If you want to start spouting specs on a dozer, your customer can make three taps on his phone and while you're on the third sentence the customer's got it all right in front of him."
Harrison adds: "It used to be said that if you knew your product better than the other guy, you'd be able to outsell him, and that's just not true anymore." Instead, salespeople have be able to translate product knowledge into what's important to each customer. "Salespeople still have to be knowledgeable about the product, but they no longer have to be product experts. Instead, they have to be customer experts," he explains.
That, says Harrison, means quality face time, asking good questions and a lot less shootin' the bull over last night's football game. "You better be talking about something that benefits their business," Harrison said. "Salespeople nowadays must be better questioners and better listeners. They need to become students of their customers."
Disrupt their decision-making
A big challenge for sales people is inserting themselves in the customer's thought process early enough to make a difference — to not only have the relationship that puts them at top of mind, but to be present before decisions are made.
"According to Forbes, 70 percent of the decision-making process occurs before a B2B buyer talks to a sales rep," says Anna Kifer, senior product manager with Randall-Reilly's EDA division, which provides UCC-1 data to dealers. "So, dealers need to find ways to disrupt that process, before the buyer has formed their own opinion about what product is best for them. (Note: EDA is a division of Randall-Reilly, parent of Equipment World and Big Iron Dealer.)
"Additionally," she added, "50 percent of sales go to the first salesperson to contact the prospect, according to the Ovation Sales Group. That means it's more important than ever to identify who is in market and looking to buy, before the competition does."
Kifer says one of greatest advantages of using EDA's UCC-1 filing data, for example, is the level of detail provided about customers and their potential sales opportunities.
"EDA has a full online platform that can create reports on leads, lost sales, market share, and other lists, maps, and charts," Kifer says. "We also have a mobile app for sales reps to use while they are out on the road for prospecting. They can use it to plan out a trip they will be taking next week or to find prospects in close proximity to them at that moment. Our tools are also valuable to the parts and service teams at a dealership as well."
Their latest product, released at the beginning of 2019, is Priority Prospects, which, says Kifer, helps clients engage active equipment buyers before their competitors do.
"We do this by de-anonymizing prospects that have visited the dealer's website and providing a daily list of priority prospects for their team to focus on," she says. "The priority prospects are comprised of their website visitors from the prior day that have been scored through our industry-specific, proprietary predictive models as the most likely to buy equipment within their industry over the next year."
Keeping up?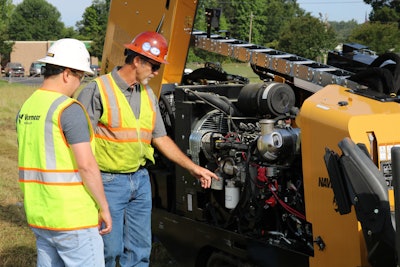 The pace of customers' demands is at unprecedented velocity in some markets. Corey Vandermolen, sales manager at Vermeer Midsouth based in Jackson, Mississippi, sees a new kind of time pressure on his contractor customers that's created a challenge for the dealership.
"Everything today is last minute, very immediate, like there's no planning," said Vandermolen. "They'll say, 'We have a project and I have to start tomorrow.' So, we've really got to be on our game from how fast we respond to what we have available, to being more creative on what equipment they can use until their equipment comes in. We've just got to react a whole lot faster."
In Lafayette, Indiana, where Bill Price is sales manager of the Chicago-based West Side Tractor Sales branch, the instant gratification mentality among customers is also fully charged.
"As we went through the economic downturn, there wasn't near as much business happening, so the speed at which people worked was a little slower because of that," said Price. "But in today's world, people want answers and they want answers now."
How to communicate
Expectations for uber-fast responsiveness has turned communication into a blitzkrieg of channel choices ranging from old-school faxing and traditional email to much more common preferences of texting, Facebook and other instant messaging apps, and Instagram. The big message for sales reps: Learn how each customer wants to be communicated with and do it.
Vandermolen observes that older reps are sometimes surprised that younger customers aren't interested in the evening-drinks-and-dinner method anymore; instead, he says, the new generation heads home to family and a couple hours of "radio silence" followed by spurts of texting from 7 to 9 p.m. about next-day's equipment needs.
"The quote-unquote older sales reps are going, 'Should I get on Instagram?' And I'm pushing them like, 'Hey, I think you need to; I think we could have some pretty interesting conversations and stay in contact with people via that avenue," says Vandermolen.
In fact, he says Instagram is a tool that enables the sales rep to virtually create their own brand within their network where they share relevant information with customers and create conversation.
"It's almost more intimate than anything we can do as the dealer or even the manufacturer," says Vandermolen. "It's completely unscripted, and seems to be more impactful than anything else."
He adds that social media advertising is, dollar for dollar, by far the dealer's best lead generation tool.
On the subject of social media, Harrison emphasizes the necessity for LinkedIn, not as a means for self-aggrandizement and off-putting volumes of cubicle video, but to genuinely connect and share value.
"It's mandatory, not optional" he says. "You have to have a good, strong LinkedIn profile because your customers do. And you can learn a lot about your customers by going to their LinkedIn profiles, looking at their activity, seeing what they're doing, what they're liking, what they're sharing, what they're passionate about. All of these things help paint that composite picture of a customer that you absolutely must have in order to be successful."
If you're serious, you're using CRM
Harrison declares that using a fully functioning CRM system is mandatory. Salespeople must log their activities and the results of those activities. In the ideal scenario, these opportunities are being managed through the CRM, says Harrison, and are visible to other departments such as parts and service.
"If you are a salesperson, and you're going out to a contractor, and that contractor just had his backhoe loader serviced the day before, wouldn't you want to know that?," he questions.
Price says West Side has taken a more intentional approach to their CRM in recent years, focusing on some key priorities such as budget and inventory planning.
"It is not used to track what they're doing," said Price; "we're not requiring X number of sales calls a day or anything like that."
Big Iron Dealer Extra: Tips for younger, older construction equipment sales reps and sales managers
Sales consultant Troy Harrison has advice for each type of sales person:
Young, new, not-too-experienced sales rep: Focus on your customers. Focus on having quality dialogue with them. Take advantage of the technical product knowledge support from your dealership. Now it's time to become a student of selling and a student of your customers.
50+ experienced, know-this industry sales rep: Update. For the sales veteran who says, "I'm not computer literate and I don't want to use CRM, and I don't use social media … ." OK then, you're retiring. That's what you're really saying because you cannot stay vital in sales right now without doing those things.
Sales manager: Focus on best practices and cross pollination. The older can learn from the young guys and vice versa.
When you have a multigenerational salesforce, you have a wonderful opportunity to both help the more seasoned sales people grow by learning from some of the technological expertise of the younger people, and you have an opportunity for the younger people to learn from the industry knowledge of the more seasoned people. If you're not taking advantage of that, you're cheating yourself and you're cheating your people.