Toro's Dingo TXL 2000 compact utility loader made the progression from last year's prototype to this year's production machine during two consecutive American Rental Association Shows.
The distinct feature of the TXL 2000, one that made it the talk at last year's rental show, is its telescoping loader arms. Fully extended, the boom has a hinge pin height of just over 10 feet, allowing it to dump material into the center of a full-size truck.
Toro also says the TXL 2000 is "the most powerful compact utility loader on the market today with a rated operating capacity of up to 2,000 pounds." This puts it into skid steer and compact track loader territory, the company says.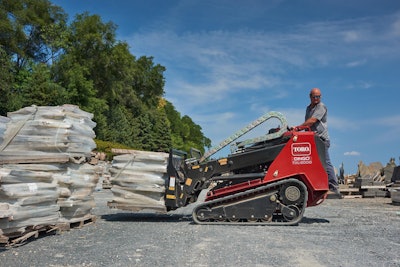 Positioned on a flexible, suspended stand-on operator's platform, operators have 360-degree visibility to the task at hand. Using a skid-steer loader attachment mount, the TXL 2000 is compatible with most standard skid-steer attachments.
"We believe it's going to be game changer for the construction, landscaping, earthmoving, utility and rental markets," says Kyle Cartwright, associate marketing manager at Toro.
The TXL 2000 has been available at select Toro dealers since late 2018. With this unit, Toro now offers nine Dingo models, ranging from the wheeled Dingo 323 up to the TXL 2000. Toro says it was s the first manufacturer to offer a compact utility loader in the United states, after buying rights to the Australian-made Dingo in 1995.
And with its recent acquisition of the Charles Machine Works and that company's Ditch Witch SK line of compact utility compactors, Toro seemed to indicate that the SK line would not become Dingos in the future.
"Our intention is to manage all the brands of both the Charles Machine Works, including Ditch Witch, and the Toro brands in a dual-brand strategy," Rick Rodier, Toro vice president and general manager, said in comments during an ARA Show press conference. "There's no intention of taking current models away or making a model that is currently orange red and vice versa," he said. Rodier will be assuming responsibilities for former CMW products in the transition.