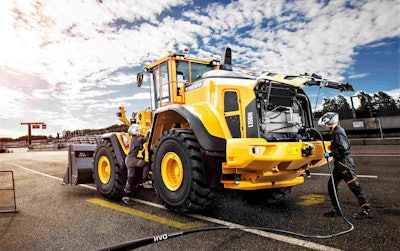 Volvo Construction Equipment has been adding new dealers and expanding veteran dealers' territories in the last year as part of a strategy to increase customer value. It's a multi-faceted strategy that includes dealers shifting toward more consultative roles as telematics and analytics change the industry.
"The moves reflect the company's strategy to outperform the competition in three key areas: providing the highest uptime values in the industry, offering unique solutions to customer business challenges and raising the lifecycle value of its machines," Volvo CE says in a press release.
Bringing on new dealerships to offer the company's equipment and services and expanding territories as well . are intended to help deliver customer value in three key areas: uptime, unique customer solutions and machine lifecycle value, the company says.
The new dealers know their markets and customers well, and they're uniquely capable of helping Volvo CE achieve its strategic goals. Several have previously demonstrated their successes by selling Mack and Volvo Trucks, for example, while others have long been tied to Volvo CE, but are now offering sales of its equipment, the company says.
The new dealers include:
The company's strategy is a result of extensive market research to learn just what customers want and need from the industry, says Stephen Roy, president of Volvo CE North America, adding that these dealers are well-positioned to deliver on the company's goals.
"When I came on board as president in 2017, I immediately set out to hear from customers across the Americas," he explains.
"Customers need more uptime from their machines. They also need more consulting from our experts to come up with unique solutions to their business problems. And they want higher residual values from their equipment partners. With these updates to our dealer network, we are positioning Volvo CE to compete — and win — the market in these areas."
The dealer network changes come at a crucial time for the industry, Volvo CE says, when innovation and new technologies are changing the industry..
"The new dealers have all pledged to align their strategic priorities with the company, embracing the focus on uptime, unique customer solutions and maintaining machine lifecycle values. They have joined the entire Volvo CE dealer network in undergoing intense training with Volvo CE and a variety of third-party experts to become equipped for these strategic goals, as well as the changing marketplace," the Volvo press release says.
Dealers becoming experts in telematics, predictive analytics and more
As the industry evolves, the company says, dealers need to become experts in areas such as telematics and predictive analytics. And dealers of the future could have "uptime managers" or other roles that support the industry's shift toward outcome-based business models, such as generating efficiencies and ensuring all downtime is planned.
Dealers will shift toward offering construction companies services that are more consultative, helping them manage costs, fleets, human resources, new technology and more, the press release says.
Volvo CE dealers are already thinking this way, the company says, by engaging with ActiveCare Direct, which is a a new telematics monitoring and fleet utilization reporting service offered directly from Volvo.
"As new dealers come on board, they too will become experts in using the industry-unique telematics and remote monitoring system to increase uptime for their customers on their job sites," the company says. Note the example of Flagler Construction Equipment's use of the program on more than 70 machines for Florida's I-4 Ultimate megaproject.
"We have ActiveCare Direct on all of the excavators being used on the project. It's very important to us," says Tommy Ball, senior vice president of Flagler.
"Volvo monitors ActiveCare and we also actively monitor it through our field service support center in Orlando. It really works out great for us — not only does it save us time, it saves the customer downtime."
Volvo CE says it's working with its entire dealer network on programs that offer unique solutions and boost machine lifecycle values, both of which the company will soon be announcing to the public.
Until then, the focus remains on enhancing the capabilities of the company's dealer network, with an eye toward helping them become the dealers of the future.
"It's quite an exciting time to be a part of Volvo CE, and particularly to become one of our dealers," Roy says.
"We aim to be a company that is easy to do business with, and that means making it easy to partner with us, but also it means that we have to equip our dealers for the future. New innovations, new ways to provide services and new market dynamics are all on the horizon, and Volvo CE is ensuring that our dealers will take the lead."