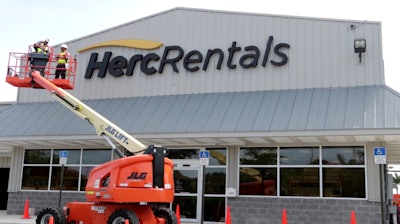 Reflecting double-digit growth across all regions, Herc Holdings is reporting a 16.2-percent jump in equipment rental revenue for the fourth quarter of 2017, compared to FY16.
Equipment rental revenue climbed to $414.5 million in the fourth quarter of 2017 – up from $356.7 million.
Total revenues were $491.7 million in the fourth quarter of 2017, compared to $405.2 million for the same period the year before.
"Our strong fourth quarter and full year 2017 results reflect the ongoing implementation of our strategic initiatives," says Larry Silber, president and CEO.
"Growth in rental revenue benefited from a combination of strong customer demand, improved fleet mix and pricing optimization as our strategic initiatives continue to focus on urban markets and customer diversification.
"The traction we are gaining with our own initiatives, together with the overall health of the economy and the potential for increased infrastructure spending and other investments resulting from tax reform, increase our confidence that we are on the right track."
Herc Holdings also reports an increase of 10.8 percent for the full year, compared to 2016. The company has seen higher rental activity continuing and investments in branch operating personnel to support revenue growth.
Herc Holdings Inc., which operates through its Herc Rentals Inc. subsidiary, is one of the leading equipment rental suppliers with approximately 275 locations, principally in North America.
In other key results:
Net income increased to $214.3 million for the fourth quarter of 2017 and to $160.3 million for the full year, including a one-time benefit due to tax reform.
The 2017 fourth quarter included an estimated one-time net benefit of $207.1 million, or $7.19 per diluted share, thanks to enactment of the Tax Cuts and Jobs Act of 2017. (In light of that act, coupled with remaining net operating loss carryforwards, the company does not anticipate having to pay federal cash income taxes for at least the next five years.)
Dollar utilization climbed 360 basis points for the fourth quarter of 2017 and 180 basis points for the full year,
Adjusted EBITDA increased to $177.8 million for the fourth quarter of 2017 and to $585.4 million for the full year.
Full-year 2017 highlights
Equipment rental revenue for 2017 increased 10.8 percent to $1.5 billion, compared to $1.35 billion in 2016, on average fleet growth (at OEC) of 4.2 percent for the same period.
Total revenues increased 12.8 percent, or $199.7 million, to $1.75 billion for 2017. That's compared to $1.55 billion for 2016.
Sales of revenue earning equipment increased 55 percent to $190.8 million for 2017.
The company reported net income of $160.3 million for 2017, compared with a net loss of $19.7 million in the prior-year period.
By comparison, Herc Holdings had generated revenues of $1.6 billion for 2016, when its diversified fleet of equipment was valued at $3.6 billion. Also in 2016, the company traded its name Hertz Equipment Rental Corporation (Herc) for its new brand, Herc Rentals.
Capital expenditures for fleet
Here reported net fleet capital expenditures of $341.3 million for the year ended 2017. Gross fleet capital expenditures were $501.4 million, and proceeds from disposals were $160.1 million.
The average age of fleet disposals for the full year was 80 months.
As of December 31, 2017, Herc Holdings had rental equipment of about $3.65 billion at OEC, based on the American Rental Association guidelines.