It's no secret that most of a dealer's revenue comes from parts and service. Knowing this, several manufacturers used ConExpo 2017 to announce parts initiatives. Here's an overview: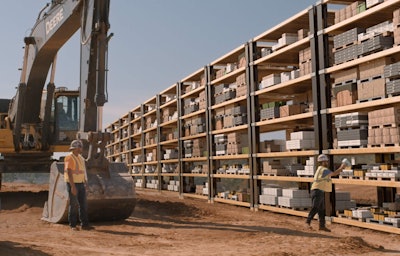 John Deere launched its Big Parts Promise, which gives machine owners access to critical, quickly installed parts at their closest participating John Deere dealer. Deere says if parts on certain machines aren't in stock or supplied by the end of the business day, the parts are free. Parts included in the program include items that Deere says will take down a machine and yet can be replaced within two to three hours: starters, alternators, injectors, turbos, relays, hydraulic hoses and water pumps. On top of these, major components – such as engines, axles, transmissions, pumps, motors, valves and final drives – are guaranteed to arrive the next business day or the freight is free. Deere models included in the Big Parts Promise include the 260E, 310E, 370E, 410E and 460E articulated dump trucks; 470G, 670G and 870G excavators; and 744K-II, 824K-II, 844K-II and 944K wheel loaders.
Aimed at providing parts to customers with mixed fleets, JLG's new MaxQuip parts line will provide users with competitive parts. Under MaxQuip, the company says it has parts for 67 competitive models of aerial lifts, with more than 18,000 SKUs in more than 50 product categories from 71 manufacturers. The MaxQuip line formalizes and expands JLG's offering of competitive parts, which it says it has offered its customers for several years. Customers can order the parts through JLG's Online Express portal or retail order hotline. Parts orders are then simplified through one purchase order, one invoice and one shipment.
In addition, JLG just opened a 215,000-square-foot parts distribution center in Las Vegas that will stock more than 20,000 SKUs, including MaxQuip, JLG Genuine and JLG Reman parts. The center is part of a strategic partnership with XPO Logistics and will also include a service training facility, including a classroom and two fully-appointed service bays. The company says it will also open an additional 316,000-square-foot parts distribution center in Atlanta later this year.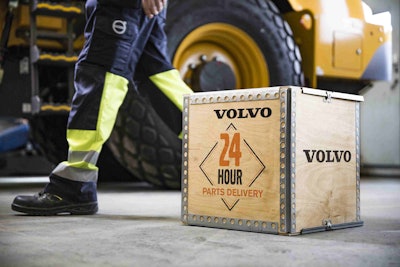 Volvo Construction Equipment's new 24-Hour Parts Guarantee ensures delivery of parts within 24 hours of order placement. The program follows the opening of Volvo CE's $70 million Central Parts Distribution Center near Memphis, Tennessee, the company's third U.S.-based parts distribution center.
While not strictly solely a parts initiative, Caterpillar's new Cat Rewards program is designed to award points to users based on their purchase of qualifying Cat products and services, including parts. These points can then be redeemed not just for the typical Cat merchandise, but also for appliances, electronics and travel experiences as detailed in the Cat Rewards Catalog at Rewards.Cat.com. Contractors must enroll their company in the program and designate a company program administrator. This administrator can then invite others in the company to participate. The first 10,000 signups receive 25 points and a special edition Cat hat.