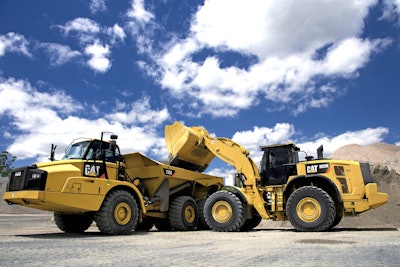 Caterpillar Inc. has reported an 18 percent drop in sales and revenues for all of 2016 at $38.5 billion, with a per share loss of $0.11 for the year. That compares to 2015, when the company reported full-year sales and revenue of $47.0 billion and a profit per share of $4.18.
The loss, Caterpillar says, is due to "three large non-cash charges and higher than expected restructuring costs." The largest of these was mark-to-market losses, which for the fourth quarter amounted to $985 million. These charges are related to actuarial gains and losses (pension and other postemployment benefit plans) that are reported when incurred instead of being amortized over time. This is an accounting principle change Caterpillar began Jan. 1, 2016. Another of these non-cash items was a goodwill impairment charge of $595 million related to the company's mining acquisitions.
Without these charges and restructuring costs, the company had an adjusted profit per share of $3.42 for 2016 ($2.8 billion), compared to $5.35 for 2015. This was better than the $3.25 Caterpillar had predicted. Fourth quarter adjusted profit per share came in at $0.83, the same as 2015.
Fourth quarter 2016 sales and revenue came in at $9.6 billion, a 13.2 percent decrease compared to the previous year, and resulting in a $2.00 loss per share or $1.35 billion. Restructuring costs for the quarter came to $395 million.
"Our results for the fourth quarter, while slightly better than expected, continued to reflect pressure in many of our end markets from weak economic conditions around much of the world," says Caterpillar CEO Jim Umpleby. "Our team did a great job in the quarter, as they have all year, aligning our cost structure with current demand while preserving capacity for the future. I'm confident we are focusing on the right areas: controlling costs, maintaining a strong balance sheet and investing in the key areas important to our future."
Construction Industries
Construction Industries sales for the fourth quarter reached $3.6 billion, a drop of 8 percent ($316 million) compared to the fourth quarter of 2015. In North America, sales were $1.6 billion (16 percent decrease); Latin America $264 million (11 percent decrease); Europe, Africa, Middle East (EAME) $624 million (34 percent decrease); and Asia/Pacific $1.1 billion (41 percent increase).
Operating profit for the segment actually increased by 88 percent in the fourth quarter to $334 million, compared to $178 million in the same period in 2015.
Caterpillar attributed the sales volume decrease to "lower end-user demand," but says this was partially offset by a smaller decrease in dealer inventories compared to 2015.
"In North America, the sales decline was primarily due to lower end-user demand," the company reports. "Although residential and non-residential building construction activity improved, we believe demand for new construction equipment has remained low due to end users' utilization of existing used equipment."
Resource Industries
Resource Industries sales dropped by 23 percent to $1.4 billion in the fourth quarter compared to 2015. All four geographic regions saw decreases, primarily in the EAME (35 percent decrease) and North America (24 percent decrease) regions. The operating loss for the fourth quarter was $711 million, which Cat attributed primarily to the Surface Mining & Technology unit, which incurred a goodwill impairment charge of $595 million.
"While most commodity prices improved in the fourth quarter over a year earlier, current prices have not been sufficient to drive much increase in short-term demand for new equipment," the company reports. "We believe commodity prices now need to stabilize for a longer period of time to positively impact our sales. Mining customers continued to focus on improving productivity in existing mines and reducing their total capital expenditures, as they have for several years. In addition, sales of heavy construction equipment are lower, primarily in North America."
Energy & Transportation
Sales for this segment (including transportation, oil and gas, power generation and industrial) dropped 15 percent in the fourth quarter, to $3.8 billion, compared to 2015. As with Resource Industries, all four geographic regions saw decreases, with the EAME region seeing the largest drop (26 percent), followed by Latin America (16 percent) and North America (11 percent). Operating profit decreased by 14 percent to $638 million.
"The decline was primarily due to a decrease in sales volume, partially offset by the impact of restructuring and cost reduction actions and a favorable impact of cost absorption as inventory decreased more significantly in the fourth quarter of 2015 than the fourth quarter of 2016."
2017 outlook
For this year, Caterpillar is forecasting a sales and revenue range of $36-$39 billion, with a profit per share of $2.30 and an adjusted profit per share of $2.90.
"There are positive signs, the real question for us is how quick will some of these positive events turn into sales," says CFO Brad Halvorson. "On the Resource Industries side, commodity prices are greater than a year ago. We are seeing some small improvements in parts sales, quoting activity and order activity. For Construction Industries, in North America we see good prospects. We love the focus on infrastructure, energy and smart regulations and we think these things are going to help us. Again it's a matter of timing. We do have used equipment fleet that's out there that's being managed through."
"We continue to execute in a challenging economic environment and are focused on improving operating margins, profitability and shareholder returns," Umpleby says. "While we see signs of positive activity in some of our key end markets, the overall economic environment remains challenging."
For 2017, Cat expects $500 million more in period costs reduction, which will mean by the end of 2017 the company's cost structure (excluding short-term incentive compensation expense) to be roughly $2 billion less than in 2014. The cost estimates to not include "contemplated closure" of the Gosselies, Belgium, and Aurora, Illinois, plants.