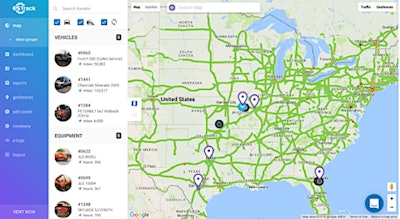 EquipmentShare has secured $26 million in funding that will allow it to launch ES Track, a mixed-fleet telematics application, as well as open eight additional peer-to-peer (P2P) marketplace locations in the U.S.
The company reports investors Insight Venture Partners and Romulus Growth led the funding, with Y Combinator contributing.
"Since our founding, we've committed ourselves to helping the construction industry become more efficient, lucrative and productive," says EquipmentShare President Willy Schlacks. "With this funding, we're able to spark even greater change in the construction industry by further expanding our rental marketplace footprint and providing contractors everywhere with the telematics data they need to optimize their equipment."
The company says ES Track allows contractors to track the location, health and use of their fleet in real time in one place. It also provides "in-depth oversight tools and analytics for both contractors and original equipment manufacturers (OEMs).
EquipmentShare previously only made ES Track available to its marketplace users.
"ES Track enables contractors and OEMs to make more informed decisions about their fleets through automated data collection," Schlacks says. "Not only can contractors automate maintenance and job analytics, but they can also boost the ROI of their fleets by renting their underutilized assets on the EquipmentShare marketplace."
The company reports contractors can also use ES Track to help comply with the Electronic Logging Devices Mandate issued by the Federal Motor Carrier Safety Administration, set to start December this year, that requires prove hours of service compliance via electronic logging devices.
The P2P marketplace locations will expand from the four current cities available to eight locations in the South and Midwest this year. The company says the service allows contractors to "lend idle equipment for additional revenue or rent equipment at rates lower than traditional rental companies."