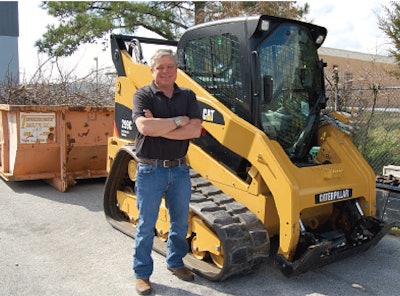 Stief Counts
Chattanooga, TN
The Counts Company
Year started: 1991
Number of employees: 4
Annual volume: $3 to $5 million
Markets served: Renovations, new builds, metal buildings
Stief Counts knows the value of quality work. The son of a master cabinet maker, Counts grew up in his father's workshop in Winchester, Tennessee. There, his father planted the seeds of a work ethic that ensures Counts always provides a job well done. After working his way through school studying industrial technology at Middle Tennessee State University in Murfreesboro, Counts accepted a position as a teacher at a local high school, where he taught furniture and cabinet making for four years.
After a six-year stint with EMJ Construction, a general contractor in Chattanooga, he decided to go out on his own, forming The Counts Company in 1991. He credits EMJ's people, particularly owner Edgar M. Jolley and Senior Vice President Phil Green for giving him not only his start in the industry, but also the confidence to start his own business. "Ed was a great guy from Winchester who gave me a break," Counts says. "And Phil taught me how to make a living."
Big things, small packages
One of the crucial lessons Counts took away from EMJ was the importance of managing this company with a common sense approach. "I was really careful not to get too big too quick," Counts says. "I focused on healthy, solid growth." As a result, The Counts Company has a small but skilled group of workers – along with a few trusted freelance carpenters – who are not only able to execute Counts' often time-consuming projects, but are happy and motivated to do so. The outcome leaves clients more than satisfied, and leads to a great deal of repeat business for the company.
"I would give them an A-plus rating," says John Waller with real estate investment trust CBL Associates, who uses Counts for tenant fit-ups at Hamilton Place Mall. "I've used him for the past few years for tenant build-outs for office space. It's Class A suburban space, and we are quite particular about it." Waller says Counts has well-qualified, good people who know how to deliver a project up to CBL's demanding standards.
Electrical contractor Jason Gentry, Electro-Tech, says Counts takes on projects no one else is willing to tackle. "Their workmanship is just unbelievable," he says. "They are the contractor most people prefer when it comes to the tedious and time-consuming projects that people don't want to mess with. That's where Stief stands out above the rest."
Up for a challenge
Counts acknowledges his clients see his crew strives for perfection, but also notes it comes at a price. "Most of my work is negotiated," he says. "I'll bid a job if I'm interested in working for the client, but I don't see myself as being the cheapest. I don't understand why people would want the cheapest. When someone wants it done right, well, that's what we're good at." If there's a job he's not particularly interested in, he'll recommend competitors, with whom he has good relationships.
One job Counts definitely found interesting was the penguin exhibit at the Tennessee Aquarium, a project he worked on in 2007. Although the aquarium used Turner Construction and EMJ for the major work, they were looking for contractors to handle smaller jobs around $2 million. Phil Green at EMJ recommended Counts, and he was game for the challenge, even though there was a steep learning curve in having to build a concrete exhibit tank to hold water. "We have a hard enough time keeping water out of a building, but now we're trying to keep it in," Counts said. "Failure was not an option, and I worked on it 24/7. I loved it, but it was hard."
They were so happy with Counts' work, says aquarium representative Rodney Fuller, they've done several projects together since. "When we were doing the jellyfish exhibit, Stief went to Monterey Bay, California, at his own expense to look at the exhibit and supervise the packing and shipping. He said he wanted to make sure it was done right."
Business matters
Counts approaches equipment purchase and maintenance in the same way he approaches his work, with diligence and an eye toward perfection. Although he has just four employees, he has a backhoe, a couple of skid steers with attachments and a dump truck. He has a great relationship with Stowers Machinery, his local dealer, always paying cash – and taking the discount, a lesson learned from Ed Jolley. "Discounts are free money," he explains. "One of the easiest things to do is pay your bills on time."
Although the company is in such good financial shape Counts doesn't even carry a credit line anymore, it wasn't always so easy. From the start, he decided not to owe anything, and to this day he won't buy something until he can pay for it. "I'll do without first," he comments. He says he's got his "paws into everything" and squeezes as much profit as possible. The office manager, Kim Gerber – who has been with the company for 20 years – handles billing, and Counts says he estimates 99 percent of his clients pay promptly. "I take the blame if I don't get paid on time."
With respect to safety, the entire firm takes responsibility. Counts says he's had few accidents, as evidenced by his experience mod rate of 0.89. He believes most accidents can be avoided by hiring smart people who use the right equipment for the job. He doesn't take chances, and he never asks his people to take chances. "We're extremely safety conscious," he says. "But the important thing is to hire competent people within the trade."
Kim and Counts' other employees, Kevin Spalding, Grant Garrett and Patrick Cullen, are salaried, but in an unusual way. Counts doesn't count hours. They can go home when the job is finished, and they can take as much vacation time as they want. No one has ever abused the policy, and Counts simply says, "They are my family."
Making a life
Not only does Counts have making a living well in hand, he's leading a pretty interesting life. In his spare time, he's a helicopter pilot who flies for both business and pleasure. He's located his office in a building he bought at a foreclosure sale a stone's throw from the airport.
He's also donated time and work to the Chattanooga community. Jason Gentry says Counts asked him to help with a classroom project in North Chattanooga, even hiring a professional to design the classroom. "Other than being a great contractor, he's also a great person," he says.
Perhaps the most unique way Counts plans on giving back to the community is through his purchase of the Burchay building, a 19th century building located on Market Street in downtown Chattanooga. The building had intrigued him for years, but had passed through several hands and fallen into disrepair. Fearful the building would be torn down, Counts purchased it and put his people to work on it. He doesn't know yet what type of business the building will eventually hold, but at least the building is safe. "I'm happy that I can leave something like this behind for Chattanooga," he says.
To view a video of Stief Counts talking about what attracted him to construction, go to equipmentworld.com/digital or use your smartphone to scan the tag.