By Lauren Heartsill Dowdle
Jon Fye
Sperry, Iowa
Fye Excavating
Year started: 1995
Number of employees: 45
Annual volume: $6.3 million
Markets served: Commercial site work, utilities, demolition, sewer, storm water, heavy equipment hauling and trucking
Jon Fye left the security of a long-time job to follow his passion for construction.
A go-getter spirit, family-focused lifestyle and entrepreneurial expertise gave Jon Fye the confidence to leave his career of 22 years and create Fye Excavating in Sperry, Iowa.
"I wouldn't change my path any," says Fye, 53. "We've done a great job at building this company." Using a strong work ethic as his building block, Fye constructed a business that thrived during the recession.
From the ground up
Born and raised in Mount Union, Iowa, Fye moved to Sperry in 1971. Nine years later, he married his high school girlfriend, Cindy. As his family grew, he decided to construct a house. With equipment-operating experience from summer jobs under his belt, Fye bought a two-wheel-drive backhoe in 1995.
"He tried to get a local contractor to come out and dig his basement," says Jeff Krug, Altorfer Caterpillar. "But when he couldn't find anyone, he went out, bought a backhoe and did it himself." Fye was still working as an electrician for the Burlington Northern Railroad, so his dirt work was reserved for his off hours.
" You're no stronger than your weakest employee."
After operating his backhoe for 90 days, he went back to his bank and asked for a loan to purchase a dozer. "My banker asked me, 'How many pieces of equipment do you think you can run?'," he remembers, laughing.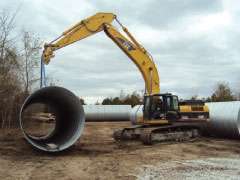 Within a year, neighbors started calling on him to hook up their utilities to Rathbun Rural Water, and Fye steadily built up this side job to eight employees. He added a dump truck and skid steer to his fleet and, after a few years, moved from residential to commercial projects. But soon, his full-time and side jobs started taking their toll on him. And when his good friend died of cancer, he changed the way he looked at life and reevaluated his priorities. "Working 100-hour weeks didn't go well with raising a family," says Fye, who has four children.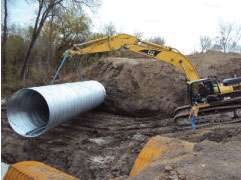 So after 22 years of working with the railroad company, he took the risk and officially launched his business, Fye Excavating, full time in 2000. "'Should I have done this?' was always in the back of my mind," Fye says about his career change. "It was a hard decision to quit the railroad."
His worries were soon dispelled as the railroad company moved out of town two years later and his business steadily grew to 45 employees. This includes his two daughters, Cara and Mindi, who work in the office; his son, Jay, who helps with
management when he isn't attending Southeastern Community College; and his two brothers, Mike and Randy. Fye's youngest son, Shane, is in middle school.
"His company is extremely family oriented, and his family's involved with all of the decision making," says Randy Reiners, equipment dealer, Mid-Country Machinery. "Jon is aggressive and passionate about what he does. He's upfront, honest, quick and he still sits down to talk with you about your family."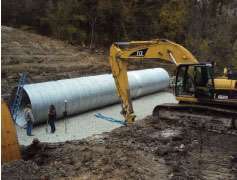 Fye Excavating offers commercial site work, site utilities, demolition, storm water, sewer, commercial heavy equipment hauling and trucking services. They also recycle drywall at the National Gypsum board plant. "That's been a nice job for us," he says, "and it's made us solid in the industry," Fye says. His business, house and shop, which he also built, are all within shouting distance, and he keeps his work trucks and materials down the road on Highway 61.
"It's been a pleasure watching a guy who had a previous career, saw an opportunity and started a small business," Krug says. "He takes care of his people and does excellent work."
Savvy systems
After growing his fleet – comprised of excavators, dozers, backhoes, skid loaders, trucks, ride-on rollers and tractors – Fye now focuses on purchasing GPS for his equipment. So far, he's equipped three excavators and five dozers with the systems and has four GPS base stations. "Our local competition doesn't use GPS systems," he says, "so that helps us stand out."
Through electronic communication, the operators view a screen that displays a blueprint system of the entire jobsite. This provides precise elevation and property locations, which eliminate the need for jobsite staking.
The added technology has helped his crews and equipment become more efficient. "It's the way commercial work is going," Fye says, first using the systems for commercial flood work in 2008 that had to be level. Fye uses Caterpillar's GPS systems, which come with 24/7 technological support – a big selling point for him.
Promote priorities
Even through his success, Fye has continued to help others when he can. He plows his neighbors' driveways and the dirt road that leads to his office after each snowfall.
He also takes care of his employees by paying half of their health insurance and offering paid holidays: Keeping long-term, committed employees is a must for running a successful business, he says. "You bring me a good man, and I can make an operator out of him," Fye says. "You bring me an outlaw who can operate equipment, and I'll take the other. You're no stronger than your weakest employee."
He also tries to promote employees' interests, whether it be farming or hunting. The construction industry is ideal for accommodating hobbies because of weather delays and a slower workload during the winter, he says. "Your No. 1 priority should be family, and No. 2 is your job," Fye says. "A passion for what you like to do is No. 3, and I like to be a part of that."
Looking ahead, he would one day like to hand the business over to his children, although he's not sure he will ever completely get away from the business. "I'll probably be that grumpy old man who comes in every day and can't give up working," he jokes.
With his dedication and know-how, it seems there's nothing this business-minded contractor can't accomplish. "If you're just starting out in the construction industry, go slow," Fye says, "don't buy too much stuff at one time, do good work, stand behind what you say you'll do and you'll go far."
One-stop shop
Being located in the Central Midwest and focusing on commercial, instead of residential projects, helped Jon Fye grow his business during the lingering recession: He even added employees and equipment. But the main thing he attributes his success and growth to is offering a full scope of services, including site grade, backfill, subgrade, prep, storm water and sewer work. "If you want to be in business, you need to offer a full list of services," Fye advises. "Clients don't need more contractors on a jobsite."


To view a video of Jon Fye's advice for contractors starting out, go to equipmentworld.com/digital or use your smartphone to scan the tag.