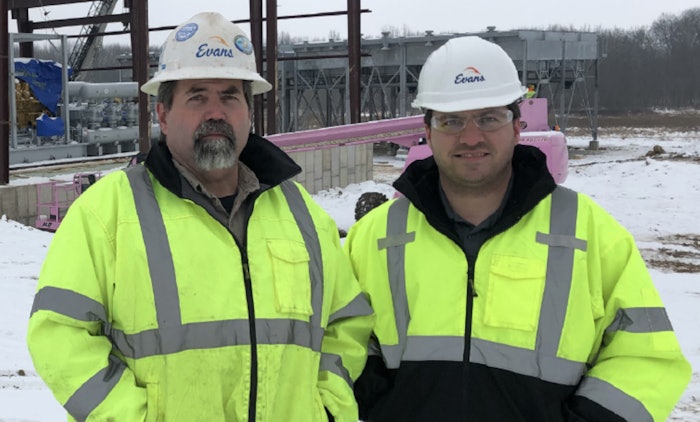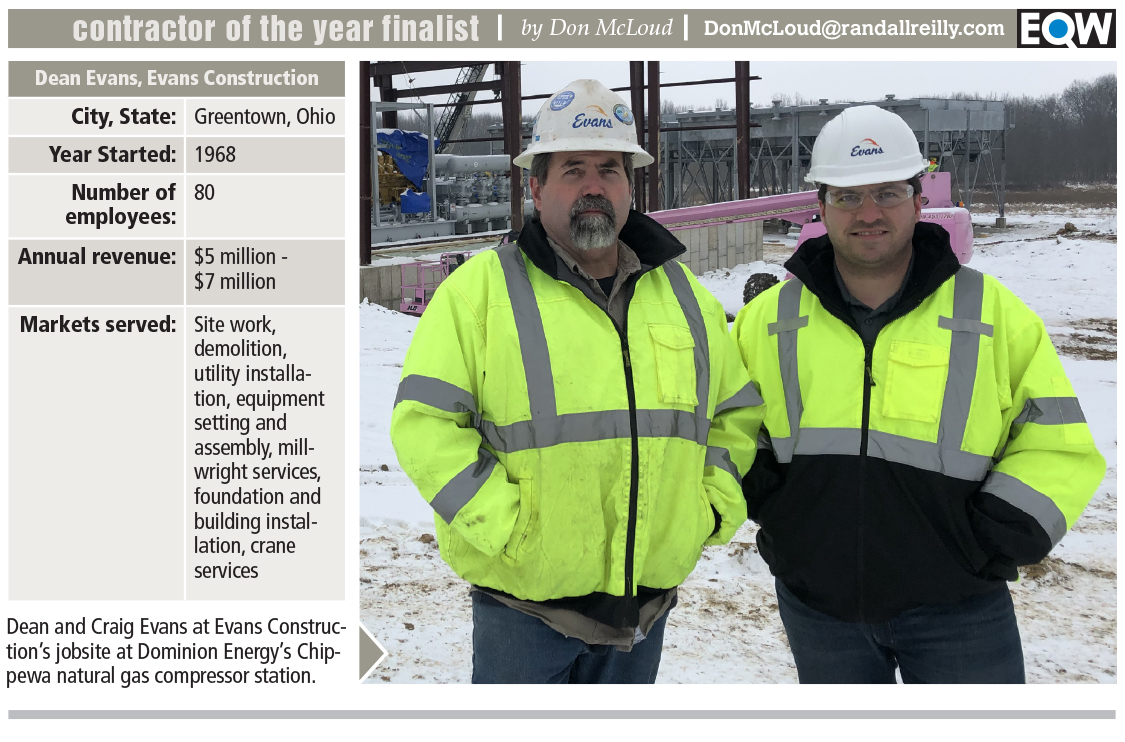 Evans Construction didn't blink when it got the opportunity to build a natural gas compressor station for one of the country's largest power companies, even though it meant quickly doubling the number of employees from 40 to 80.
"The contractors typically that would do that station would be 20 times our size," says owner Dean Evans.
But Dean loves a challenge, and so the hiring began for the 12-month project to build the Dominion Energy Ohio station consisting of two 3,750-horsepower compressor units, new gas lines and other aspects of the station's construction.
The project, which began in 2018 and ended a year later, was the result of decades of Evans Construction forming a relationship with the energy company. It has also developed close relationships with other large utilities over the years, to the point where the company doesn't have to hunt for work.   
"Most of the time, our customers come to us looking for a solution," Dean says. "We specialize in doing the unusual."
For example, American Electric Power approached Evans about four years ago for a project that involved directional drilling for utility lines in residential areas. So Evans got into the directional drilling business, with employees receiving operator training.
"We solved the problem for them," Dean says of AEP, "and it makes us a little more well-rounded."
Humble beginnings
That ability and willingness to take on new tasks has served Evans since it was formed in 1968 by Dean's father.
Daniel Evans had worked for construction companies and began to buy equipment to start his own business. He began digging graves and moved to excavation for swimming pools.
It wasn't an easy start.
Carol Evans, Dean's mother who still comes into the office at 79, recalls trying to raise two boys while running a construction company out of their home on limited funds.
"We would go to Fishers Foods and get their damaged cans," she says.
She adds with a laugh, "The only gifts I ever got for my birthday was either a dump truck or a backhoe."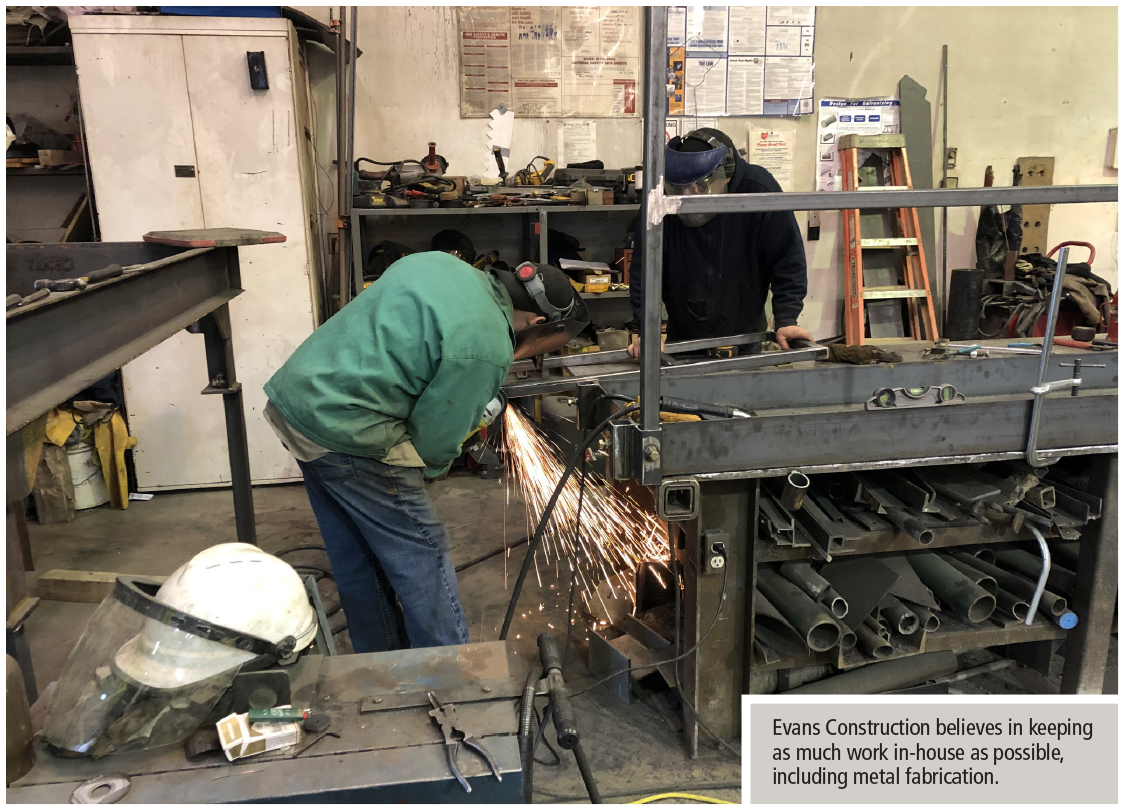 The break came when Daniel landed work with East Ohio Gas as a subcontractor and later as contractor. "We've worked for them ever since," Dean says of the 35-year relationship that continues today through modern-day Dominion Energy Ohio.
Dean came to work for his father in 1981 sweeping floors, then general labor, then he worked in the shop, and operated equipment including cranes. "I had a hand in everything," he recalls.
The company was focused on oil distribution work in the early 1980s when the industry crashed. "So we kind of reinvented the wheel," Dean says. "We started working for American Electric Power, and we've worked for them ever since."
Daniel branched out into starting a contractor supply business. It began selling refurbished trucks, equipment and trailers.
In 2005, Daniel set up a succession plan in which Dean and his brother, David, would buy him out, and the brothers would share equally in the businesses. Dean runs the construction company, and David runs Evans Supply. Daniel Evans died in 2008.
"It stayed on an even keel until he passed away and then the boys took off with it," Carol Evans says. "… We're very proud of what my husband started and my boys are continuing."
Staying in-house
Along with solid, longtime customers Dominion and AEP, Evans has taken on eight or so more quality customers that keep the growth coming. But to maintain such high-quality customers has involved acquiring new skills and knowledge, especially as the utilities do less of their own construction management.
"Most of our customers are bigger utility companies, and they're insisting that their contractors do more projects turnkey," Dean says. That has led Evans to focus more on doing an entire project from bottom to top and relying less on subcontractors. The company has added its own weld shop, does its own metal fabrication, runs its own concrete supply trucks and operates a crane service. The company gets most of its materials and supplies through Evans Supply, which can purchase direct from manufacturers, saving money.
"We take it to the nth degree on doing everything in-house," Dean says.
The company's ingenuity and ability to do the complete job has won praise from its customers. "They came in, took the bull by the horns, and we haven't had any problems since," says Mark Wales with American Electric Power. "Other contractors would like to be like them."
'Until the wheels fall off'
Dean still maintains his crane operator certification and can often be found operating one of the company's cranes on a jobsite. All of the company's management can also operate equipment.
"We're not relying on that operator to tell us how that piece of equipment should be run," Dean says. "We know how it should be run."
Another advantage of having managers as operators is added safety. "You don't have the preventable, the stupid accidents," he says. "We know that bucket will curl, or we know that crane can't be swung without the stabilizers down or it will topple over."
The focus on keeping work in-house extends to the company's 130 pieces of equipment. The company has two mechanics on staff and uses a GPS tracking system to keep up with its equipment and its maintenance. "We try to take extremely good care of it," Dean says.
As evidence, Dean points to a 1968 Towmotor and a 1966 Cat D8H dozer the company still uses. Its dump truck fleet from the 1990s still runs every day.
The company's equipment strategy is a simple one.
"Our plan is," Dean says, "we drive it until the wheels fall off."
An employee who overheard Dean quipped: "We put the wheels back on and continue going."
Everyone can stop work
Safety is a major concern and requirement for Evans' utility customers and has weeded out contractors that couldn't keep up with requirements, which are often beyond those of the U.S. Occupational Safety and Health Administration.
Craig Evans, Dean's son and part of the third generation to join the family business, came aboard the construction firm in 2012 as safety manager. He built the program from the ground up, and now all of the company's safety standards are written. Each morning a jobsite analysis is conducted to go over any safety issues that might crop up during the day. He also performs safety talks on various topics during each site inspection.
Craig led the effort for the company to become ISNetworld certified, in which a contractor's safety standards are matched with a prospective customers' requirements.
"All of our standards meet our customers' standards or exceed them," Craig says.
On the jobsite, Dean believes in empowering each employee.
"Everyone has authority to stop work," Dean says.
"They demonstrate safety is No. 1 and require that standard from their subcontractors as well," says Ted Foster, division manager for Hilscher-Clarke Electrical Contractors and Engineers.
Driven by the market
As Evans Construction has continued to grow, Dean realized he needed to make some changes in the company's management structure. Before the huge Dominion Energy project, he and Craig were managing 40 or so employees.
"You get to a saturation level where you just can't do everything," Dean says. "The only way to sustain growth is to add more supervision."
So the company now has nine managers to spread the load and become more efficient.
"My career has gone from running this company with 20 or 30 people making 300 decisions a day," Dean says, "now to running with 80 people making four or five decisions."
He believes that has positioned the company for even more growth.
"We don't have any plans to plateau," he says. "We let the market drive us."