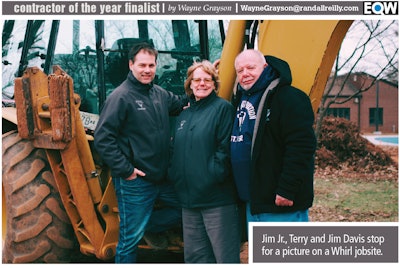 Jim Davis Jr. awoke to his phone ringing on a Monday morning in 1993. He looked at the clock. It was 6 a.m.
"Let's go," said his father, Jim Sr., on the other end.
"I just graduated college yesterday," his son replied.
"Yeah, now it's time to go to work."
"He didn't even give me a ride," Jim Jr., recalls with a smile. "I had to take the bus."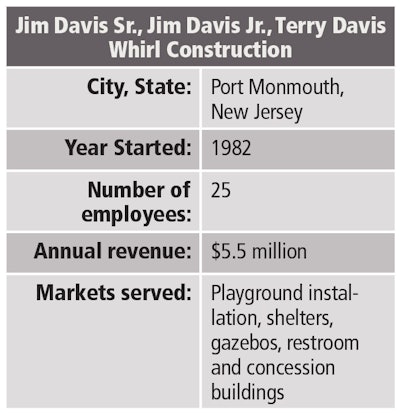 His father's call wasn't exactly a shock though. He's been working in the family business, Whirl Construction in Port Monmouth, New Jersey, since he was a kid. When Jim Jr. wasn't playing a sport in school, Jim Sr. expected him to be at work from the time the bell rang until the sun went down.
By the time Jim Jr. was out of college in 1993, Jim Sr. had been at the helm of Whirl for 11 years and was eager to get his son involved in a business he loved.
"Everything has changed"
A veteran of the U.S. Navy, Jim Sr. drew on his time in the military and his Catholic school upbringing in developing his business acumen.
Whirl, which specializes in the installation of playground and recreation equipment, shelters, restrooms and concession buildings, is actually the second business he has owned. The first was CJ's Deli in Middletown, New Jersey. He worked six or seven days a week for 12-16 hours a day. It was a grind he was eager to escape.
So when the opportunity came to join his brother-in-law Tim Mullin's business, K&T Concrete, he made the move.
K&T also specialized in playgrounds, and when Mullin was ready to exit that market, Jim Sr. decided to fill the gap with Whirl.
Why the name "Whirl?"
"Some people call Merry Go Rounds a whirl," Jim Sr. says.
He bought a pickup for $600, put another $1,800 in it to get it running and started installing playgrounds around New Jersey with shovels, digging bars and a two-man auger.
"Caterpillar wasn't even on my radar, then," Jim Sr. says with a laugh.
"They used to mix the concrete by hand and dig the holes all with muscle," says Terry Davis, the company secretary, Jim Sr.'s wife and Jim Jr.'s stepmother.
The company is still doing jobs all over New Jersey – with some work in New York City – though at a much larger scale. In 2018, the company brought in $5.5 million and employs 25 people with five crews running at any given time. Ninety percent of the work Whirl does is public work.
"The principals and people have stayed the same," Jim Jr. says. "Everything else around us has changed."
"We started out as a one-trick pony," he adds. "We'd never think of doing a concession stand even 15 years ago. We've branched out and diversified a lot, but back then, it was just playgrounds."
"You don't know what the future holds."
Among that diversification is more concrete work, which the company used to sub out. The move came soon after the last recession began impacting Whirl's bottom line, starting in 2008.
"It was gradual," Jim Sr. says. "We started to see it when municipal and school funding started to dwindle, and some people that had jobs for us in the pipeline said they couldn't start them until they had money in the budget again.
"We thought it was going to be a few months to a year, but it ended up being a few years."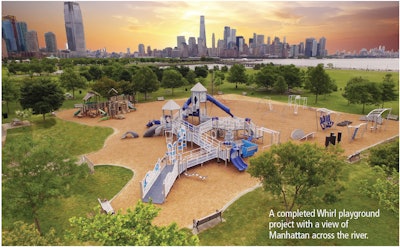 When the jobs dried up, Jim Sr. says, the company made keeping its employees on the payroll its first priority. Both Jim Sr. and Jim Jr. say their workers are the company's differentiating factor because of their experience and ability to handle just about any task thrown at them.
"It was diversify or die," Jim Sr. says.
So Whirl pursued concrete work in a big way. "Flat work, brick work, pavers. It was all stuff we used to sub out," Jim Jr. says.
But the concrete work wouldn't have been enough to sustain Whirl in the nearly four years it took to weather the recession. If it weren't for a well-padded savings account, the company likely would have gone under, the Davis family says, adding that if other contractors can swing it, putting money away for a rainy day – or a rainy few years – could be the difference between survival and shutting down for good.
A good reputation
Though most contractors today list finding and retaining skilled workers as one of their biggest challenges, Jim Sr. and Jim Jr. say it hasn't been a problem at Whirl for some time.
The pair say the turnover they were seeing 15 to 20 years ago was much higher than it is today. They attribute that retention of good people to good pay, steady work and good benefits. They also credit an approach to hiring they characterize as highly selective with a lengthy interview process.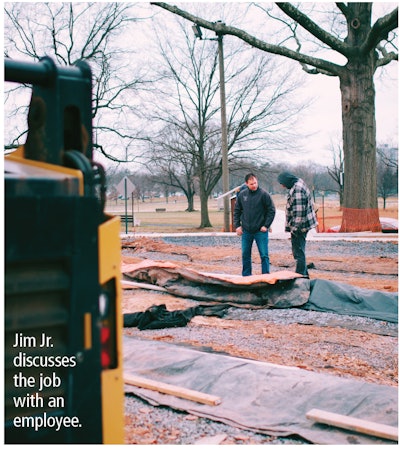 "If we hire you today, you should have a very good idea of what we expect of you and just how high the standards of this company are," Jim Sr. says.
"We have developed a good reputation as being a good company to work for," adds Jim Jr.. "We have many longstanding employees, and the guys that are coming in are seeing this is a viable company and seeing how good the guys at the top are doing. So, it's a desirable place to be."
That reputation extends to the company's clients as well.
"I have found over these past 20 years that they go above and beyond what is necessary to deliver great service and a quality product," says Alan Koenig of Bergen County Parks.
"We work with many various contractors," says Peter Correia of Schumacher Insurance. "We are proud to have them as clients and call them a friend."
"I just want to thank my dad for taking that chance of getting out of the deli business 37 years ago," Jim Jr. says, "because I know I wouldn't have lasted 37 years in a deli slicing meat and making bagels."