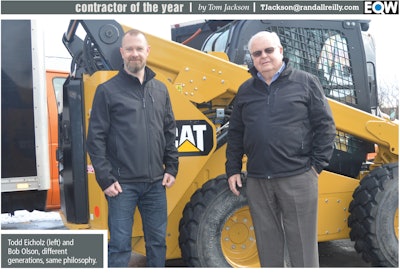 When Bob Olson started A&A Paving in 1960 he had a goal of running the best little asphalt paving and sealcoating company in the Chicagoland area. With a great work ethic, personable style and innovative practices, Olson earned a cadre of loyal customers for the better part of six decades.
But when Olson started thinking about retiring a few years back, he realized he couldn't just turn over this fine-tuned machine to anybody. For Olson, the obvious choice was his best customer.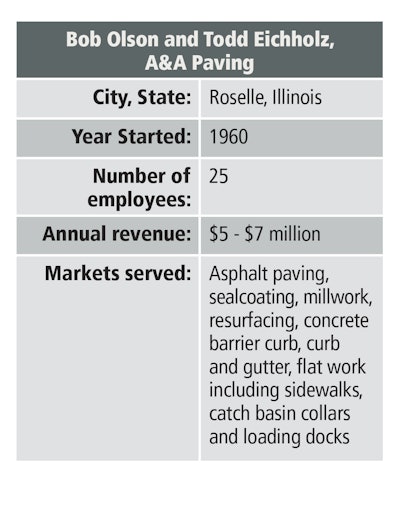 Enter Todd Eichholz, a self-described serial entrepreneur. Eichholz owns a commercial real estate development and property management firm and had hired A&A Paving to do parking lots at his various properties. The two men had great respect for one another and had both been honored as Business Person of the Year by the Roselle Chamber of Commerce. Five years ago they sat down to lunch and Olson popped the question: "I'm looking for a partner and somebody to eventually take over the business." Eichholz immediately said yes. For Eichholz it was a chance to combine two of his favorite things: entrepreneurship and heavy equipment.
Modern management
Eichholz set to work analyzing the business components and looking for opportunities to gain efficiencies. He also brought modern management thinking to bear on the business to help it grow. Eichholz remembers the days in the not-too-distant past when A&A Paving had secretaries with yellow legal pads and typewriters.
"So we started bringing in technology," Eichholz says. They started using drones to record parking lot layouts and take photos for marketing purposes. "Bob embraced the technology quicker than guys 20 years younger," says Eicholz. "He taught himself Excel and created our multi-tab bidding workbook for paving sealcoating and excavation and concrete. Bob's son Nate Olson joined us, and we started teaching people different ways to do things.
"Bob and I took the company and shook it hard. He is very cautious and I'm all about calculated risk. But for us to be polar opposites and bring ourselves together has been one of the best experiences of my life."
In the field, A&A Paving added a setup crew to increase efficiencies so the jobs could be prepped ahead of time for the larger paving crew. "We ventured into multi-state sealcoating and recently completed almost 50 jobs for Walmart," Eicholz says. "I added a concrete division to better serve our customers by self-performing more work and keep the scheduling control and quality." Eicholz also instituted an equipment replacement program and has been trading up to bigger and more efficient machines.
Personality and style
Eichholz is adamant about breaking down communication barriers in the company. He built a breezeway that connects the office and the shop to reinforce the idea that crews were welcome in the office and office personnel were welcome in the shop. "We are one team," says Eicholz.
He also had everybody in the company take a personality inventory and then used the results to help employees deal with each other in a way that made sense for their personalities. That enabled the people who were eager and outgoing to understand that those who may be more introverted or gruff weren't been negative – that was just the way they were wired.
One of the surprising benefits to Eichholz's management style is that the company is gaining a reputation as a woman-friendly workforce. "We just hired our first female pavement consultant and female project coordinator," Eichholz says. "They see the culture and the way we treat people and they want to work here."
Hire for character, train for skill
A&A Paving, both Olson's and Eichholz's version, doesn't so much hire for skills as it does for character. One of its best salespeople, Roy Johnson, was a retired school principal who liked the job and stayed for 30 years. When Johnson passed away in 2018, the company honored his legacy by naming its annual sales award after him.
Dave Pawelek, the company's newly promoted president, came on board in 2018, as vice president of operations after working in management for the Disney company. Pawelek hadn't worked in construction before, but his operational genius has been key to freeing up Eichholz's time to take on more big-picture tasks.
"I'm a good entrepreneur, a good idea guy and a good 30,000-foot leader, but I had way too much on my plate," says Eichholz. "Now with Dave running operations, I can delegate and trust my team. We're doing much more than I ever thought we could, and I'm half as stressed because I trust the people who work for me are doing their jobs well."
Eichholz is also keen on evaluating what employees are best at and turning them loose. "Employee self-evaluation plays a big role in this process to help identify where their passions are," says Eicholz. "We may change seats on the bus, but everybody stays on the bus."
Customer satisfaction
Craig Cooksey, of Northwest Community Hospital, says A&A Paving is the best he's seen in 21 years at the job. "We repaved half our campus a few years ago, 17 acres, and we were given a limited time to do it," says Cooksey. "A&A accomplished the job in two days with minimal disruption to the traffic flow in and out of the hospital. These guys went out of their way to make sure everything went perfect. When they weren't actually laying down asphalt, everybody had a job, and everybody was busy."
That two-day turn-around for the hospital was a record. "They ended up painting all of our fire lanes and doing a lot of striping work that wasn't in the scope of the project simply because Tom Swinger, the account manager, wanted to make it look right," says Cooksey. "He felt like if they just left it as blank asphalt, it wouldn't show the workmanship they wanted to accomplish. They striped quite a bit more than they were asked to do, or that we paid for, just because they wanted it to look good."
Finding a niche
Eichholz readily admits that A&A is not the cheapest, nor does he want to be, and that requires educating the customer. "We continually educate our staff on what that means and how to sell it," says Eicholz. "That's what Nate does now. He created our Asphalt 101 program that we use to educate property and facility managers."
"We want to get involved in the toughest situations, like the high-end residential homeowners association jobs," says Nate. "They can be tedious and stressful jobs because everybody is looking over your shoulder. But we do it well and it gives us a chance to have relationships with people."
At A&A Paving the relationships that start with asphalt often branch out into joint efforts to help and improve the community, a process the company calls "Pave it Forward." These projects include funding for backpacks and school supplies for local kids, volunteering to set up a low-cost "Holiday Gift Mart" so struggling parents can afford to buy their kids Christmas presents, and working with the Shriners, churches and other organizations, willing to pitch in.
"You never know what that relationship is going to turn into," says Nate. "That's why every relationship, every cold call, every potential customer, every current customer is important. You may get a chance to share your faith or find a new sponsor for a community project. Our goal is not just the job. It's to do the job and then ask what's the next step in this relationship. You never know what kind of value you can bring to them."