Don Logan knew what he wanted to do right out of high school, and it had nothing to do with going to college as his father wished.
"My father was in home building, and I liked being on his equipment," Don recalls. So after graduation in 1995, he started doing a number of jobs, including residential site work, footings and basements.
Don credits working with a local contractor in nearby Chattanooga with giving his firm the vital leg-up to do larger jobs. He started performing subdivision site development work and began to do commercial utility and subgrade work.
That gave him access to other contractors on projects. "After that, I started getting bid invitations from multiple commercial contractors," he says.
Complicated but profitable
Logan Excavating eventually landed a job "that pretty much carried us through the recession," Don says.
What was supposed to be a typical project turned into something else when the owners found they had to dispose of soil laced with lead and arsenic. This meant that testers on site had to sample each cubic yard excavated – basically each bucketful – after which Don's crews would put the soil in designated areas and wait for test results.
In the meantime, the material was put on plastic and then covered with plastic at the end of each day. If the tests came back positive, the material had to be transported to a landfill about an hour away.
"It was a complicated, drawn-out process," Logan says. And it turns out, a profitable one, giving the company experience in dealing with special wastes and the certifications to handle other jobs. "It's been a good avenue for us," he says.
Production fleet
Logan Excavating's fleet includes excavators, dozers, loaders and single-drum compactors. He uses his 23-ton and 30-ton excavators for truck loading, clearing and larger pipe work. Three dozers – a Cat D3, D5 and D6 – work on production to finish grading jobs.
Logan calls his track loader a "very versatile machine. I don't ever intend to be without one," he says. "We use them for any grading application; they're easy to move. When you've got 30 to 40 loads of dirt to move, it's easier to load that up than to bring in a 50,000-pound excavator."
He sees a generational shift in machine preferences. "I like using a backhoe over a mini excavator, but the younger generation likes the mini-ex better," Logan says. "I just like the versatility of a backhoe."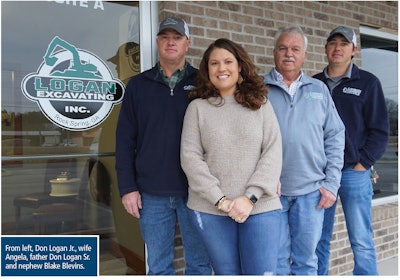 Logan used to regularly rent a smooth-drum compactor but ended up buying a smooth drum with a sheepsfoot shell kit to replace those rentals. "That way, we can put the shell kit on it and have two padfoot rollers when we need it. And it can be taken off when we're putting stone down."
Logan Excavating's main rental items are hammers for his compact equipment. "It's a high-maintenance item, and I've always preferred to let the rental people maintain them," Logan says. If a larger hammer is needed, he'll rent the machine with the hammer. "I don't even have my larger excavators plumbed for a hammer," he says.
Production machines are purchased new. "If you're going to put more than 1,000 hours on a machine a year, you're better off buying new," he says. "The cheapest way is a straight-out purchase, so I don't use RPOs."
GPS-equipped machines have changed the game, Logan adds. "Before, if you had it and your competitors didn't, you could price a job to take three days, do it in two and make money. Now that gap has closed, and you have to have it."
Above and beyond
"Don and his team always do A-plus work no matter the size of the job," says Todd Queen with Queen Construction. During 2018's wet summer, for example, "Logan Excavating went above and beyond all summer to work long hours and weekends to make up for the wet times to make sure we made our deadlines."
This willingness to do what it takes served Logan well when working with the producers of the movie "42," about Jackie Robinson's journey to becoming the first African-American player in Major League Baseball. Parts of the movie were filmed in nearby Chattanooga, and Logan Excavating was called on to create a tunnel and do other work at a former baseball stadium that would stand in for 1940's Ebbets Field.
The production crew was filming a scene that required a bus to approach a building when they found out a ramp was too steep. They called Logan in the afternoon. Could he be there by 7 p.m. and get the work done by 7 a.m. the following day? Logan gave them a price he thought would disinterest them, but they accepted it. So he and his crews did the work.
He chuckles, and says, "Then they ended up cutting the scene."
"We all do a little bit of all of it."
"I don't ask my people to do anything I won't do myself," Logan says. "I don't have true laborers and operators because we all do a little bit of all of it."
He also doesn't have much turnover. "I don't know if I've ever hired anyone off the street," he says. "I'm really picky about my equipment, and if someone doesn't take care of it, they're not going to run it."
Logan Excavating is a family affair. Don's wife, Angela, heads the office, and his nephew Blake Blevins serves several roles, including estimating, preconstruction and project management. And his father, Don Logan Sr., with his background in home construction, does anything that needs doing.
There's a photograph in the Logan Excavating office of Blevins on his uncle's backhoe as a young kid. "I guess I was just born into it," Blevins says. While he was in college earning a civil engineering and surveying degree, his work with the company continued, with Logan sending him job plans to estimate.
"I would be bored with going to the same location and doing the same thing every day," Blevins says. "We're usually the first ones on a jobsite. Being able to go from there to a finished product is something I enjoy."
"Don has built the company up from a very small firm to what it is today," says Mike Coward with MHC Kenworth. "He managed to do well in down times because he's in such high demand."
"There are no gotchas with Logan Excavating's bid proposals," adds client Karl Bealke with Griffco Design/Build. "They don't mess around when they get on a site. When we give them a schedule, they exceed it."
"We had a challenging site with a lot of private utilities running through it that were never marked," Bealke adds. "Don jumped right on a line repair – they were on it in a matter of hours. They're rock stars."