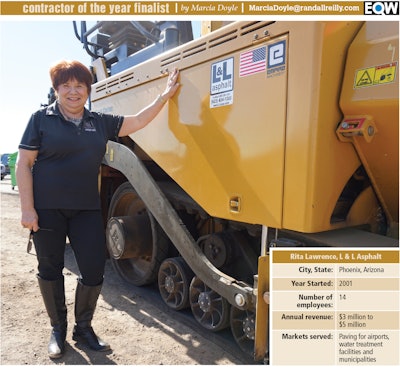 Rita and Arlyn Lawrence were living the good life in Phoenix, Arizona, where they had relocated after Arlyn retired from running a heavy highway construction firm in Illinois. But in a sudden twist of fate, the retirement money they were relying on from his former company disappeared.
"We looked at each other and said, 'What are we going to do now?'" relates Rita. Arlyn had the answer: "We're going back in business, and you're going to be the boss."
With Arlyn as her mentor, Rita took on 100 percent ownership of L & L Asphalt, working for the city of Phoenix as a small-business enterprise. "We bought shovels and a dump truck and hired a few guys and just started filling potholes," Rita says.
The work had its challenges. "This area has about 25 different mixes for asphalt, and everyone thinks they have the best spec," she says. With Arlyn serving as her chief estimator, the two tackled all the bids they could handle.
At the end of the first year, Rita examined the bottom line. "I thought, 'Wow, if we could make that much just filling potholes, we need to crank it up,'" she says. "So I bought a paver."
Unfortunately, the new paver was a lemon. "It broke down every time," she remembers. "I raised so much hell the dealer sent me another paver to replace it, and that one wasn't much better."
Eventually Rita hired an estimator, and so Arlyn finally got to retire… again.
Then along came the recession
When the Great Recession hit, it hit L & L hard.
"I cried and prayed a lot," Rita says. "We were tapped out on our line of credit, and we had a few jobs go wrong. Then the bank froze our account."
Rita negotiated with the bank. "They gave us six months. We had to sell all of the equipment we owned. We all took a pay cut."
The company's numbers improved; it made its payments. Eventually the bank doubled the line of credit.
"We learned how to pick and choose jobs," Rita says of the experience. "I now know we don't have to take on everything just to exchange dollars."
What makes her proud though is that "nobody left me, even after the pay cuts. Everyone stayed," she says. "We all just kind of hunkered down."
Public works concentration
The company concentrates on the public works market within a 100-mile radius, including municipalities, airports and water treatment plants. "A lot of the larger companies don't want to mess with the smaller jobs," Rita explains, "but with us there's really nothing that's too small."
But that doesn't mean they don't take on larger projects, such as a current $1.8 million job at Sky Harbor Airport in Phoenix.
"If the project fits, and it's for one of our top clients, we'll try to do it," says John Doerfler, chief estimator, who was hired by L & L after several years of experience with another firm.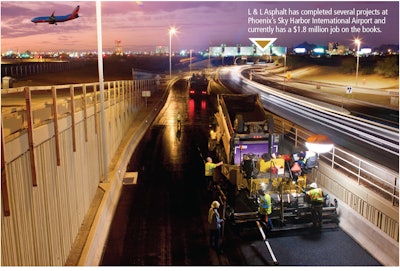 The company's equipment fleet includes pavers, skid steers and rollers. "We've really stepped up in the past two years with our rollers," Doerfler says. "We used to rent them, but they were hard to find. With owning them, you don't have to worry about that. And Rita was not happy with how much we were spending on rental."
Doerfler continues: "This type of work is hard on equipment, so buying it after someone has already used it is tough to do. With buying new, we have the warranty. It's really the only way we can go with pavers."
There are tough realities with working on an asphalt crew in the deep Southwest. "Asphalt comes out at 300 degrees out of the truck, and it's already 110 degrees out there," Doerfler says. "It's not an easy job. If they make it the first week, though, they'll usually stay."
Rita's son, Jon Conkling, serves as L & L's chief mechanic. "He so good at working on machines," she says.
"The people we have now are the best crew we've ever had," Doerfler says. "Our superintendent Daniel Gonzales is on top of everything."
Mike Elkins with B & F Contracting offers this observation about the can-do attitude of L & L crews:
"We do a lot of emergency work for the city of Phoenix, and we're working until dark or as long as the plant can run. They never tell us they can't help us."
Mama Bear
"We call Rita 'Mama Bear,'" Doerfler says. "You can approach her about anything, and if you need help, she'll help you."
Part of Rita's caring perspective comes from being a cancer survivor, diagnosed with lymphoma in 1984. After two years of remission, the aggressive cancer came back. Her life was saved by a then-experimental treatment that is now FDA-approved.
Rita calls the experience a miracle. When doctors ask her, "Do you know what a bullet you dodged?" she says, "Yes, I sure do."
ASA Diva
Along the way, Rita joined the local chapter of the American Subcontractors Association and became the chapter's chief membership advocate, passing out membership brochures on jobsites to other subs. One year, she was responsible for inviting 20 new members to the group.
She even has a license plate that reads, "ASA Diva." For her efforts, Rita received the national association's Timothy L. McLaughlin Exemplary Leadership Award in 2017.
"Within the ASA community, you can simply say 'Rita' and everyone automatically knows who you're referring to," says Carol Floco, CEO of ASA of Arizona. "She's our construction version of Cher."
"Joining ASA really put my company out there," Rita says. "It made a huge difference. There's so much you can learn from an association."
"L & L isn't just interested in getting your business," adds Darin Bailey with Hunter Contracting. "They are always there to help value-
engineer options and provide their expertise and experience."
Talk to the owner
Rita has seen a number of changes in the 18 years she's been in business, especially as a woman in a male-dominated industry. "People would call and say, 'I want to talk to the owner,' and I'd tell them that was me, and they'd say, 'Do you have a male there I can talk to?'"
She pauses, then says: "I don't hear that anymore."
"I was a control freak in the beginning," Rita continues. "I was so afraid that we were going to lose the business I felt I had to control everything. It took a long time to find the right people, but once I learned to let go and put people in those positions, I learned to delegate."
"I call myself the politician of the company," Rita adds. "I got out and went to meetings and got involved with legislative issues affecting contractors." This involvement reflects husband Arlyn's example. "That's what he did with his former company, and it just makes a huge difference in your company's reputation," she says.
"Rita could teach others how to be a good business owner and manager – which are not always the same thing – and the importance of connecting with and caring about employees, and championing the issues that impact the industry," says ASA's Floco.