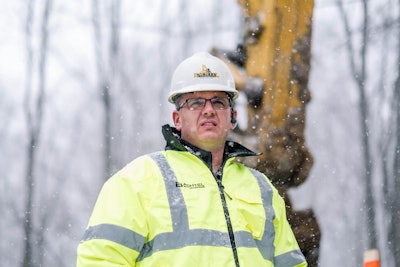 Every facet of Matt Bachtel's life has been touched by tragedy.
As a father, he mourned a miscarriage. In 2006, his best friend passed away. Two years later, he endured the death of his wife, Lisa. Left reeling in the wake of her passing, his business, Bachtel Excavating, hung in the balance as the 2008 recession took hold.
Nearly 10 years later, seated in his office chair, Bachtel looks back on surviving his darkest hours and on his new life, and he flashes a smile.
"I am the luckiest man alive," he says.
Turning a negative into a positive
While the other kids in Massillon, Ohio, played, Bachtel spent most of his childhood days thinking about work.
He started his own lawn care business and spent the rest of his time chasing down every piece of heavy equipment that entered his neighborhood. He would watch from afar, dreaming of a day when it would be his turn to operate that machinery. His father was a construction manager for Aqua Ohio, a private water utility. Anytime an emergency main broke in the middle of the night, Bachtel would get a chance to go, as he put it, "hang with the guys."
Once he was old enough, he spent Christmases and spring breaks working for an excavator contractor who was a friend of his father's. "I think he and my dad had in their minds that they were going to break me," he says laughing. Bachtel split time working for three different excavating companies during his teenage years and put his earnings toward a college education at Ohio State University.
He graduated with a business marketing degree, but his fascination with equipment led him to a successful stint selling heavy machinery with Tiger Machinery out of Columbus. "I would go out on deliveries, and I would see Kokosing Construction…and it exposed me to the best of the best," Bachtel says.
He realized he didn't want to just sell equipment. He wanted to make his living using it.
It wasn't an easy decision, however. With Bachtel's career at Tiger quickly moving along, he and Lisa had begun putting down roots in Columbus with a newly renovated home. But when the couple's first pregnancy resulted in miscarriage, they reevaluated their future in Columbus. "Out of this negative came this life-transforming change," Bachtel says.
They sold their home in 2000 and moved back to their hometown of Massillon where Bachtel would establish his excavation business. "It was Lisa's belief in me that was really the driving force," Bachtel says.
Bachtel got his first jobs by sending a flyer for residential excavating, water and gas services to the Massillon building industry association's mailing list, which he got from his mother, a Realtor. He also called up every plumber in town. Within a week, he had clients.
Over the next seven years, Bachtel Excavating grew slowly as he focused on keeping the company small and "just being ourselves."
Bachtel says a meeting with a business coach in 2007 had a big impact on him. "It was a huge investment for us at $12,000," Bachtel recalls. "But he pushed me in a lot of ways. We would meet a few times a month and I would have homework." He says the best advice he received concerned how to lighten the load of a family and a growing business.
"He said, 'Hey you've got three kids, you're working six days a week, why are you still cutting your own grass? Your wife is doing your books and taking care of the kids. Why don't you hire a cleaning service once a week to take care of the housekeeping?'" Bachtel recalls. "It helped me not only personally, but also in business to become comfortable with subbing jobs out."
In 2006, Bachtel suffered the loss of childhood friend Ryan Hannan. A year later, his company surpassed $1 million in revenue. Unfortunately, the milestone year was quickly followed by another devastating loss.
'Everything got turned upside down'
It was a Monday and slightly warmer than average for February in Ohio. After arriving home from work, Bachtel says, Lisa began acting strangely and was talking about a childhood friend. The behavior prompted a visit to the doctor who initially told Bachtel it was likely that Lisa was just severely tired. "We had three kids and we were building a house and in the process of moving," Bachtel says.
Later that night, the doctor returned to Bachtel and told him he had found a tumor on Lisa's brain.
"That was a Monday and she passed away on Sunday," Bachtel says. "In just six days everything got turned upside down."
Lisa's death left Bachtel unable to focus on the business and forced him to step away for a few months while he tended to his wounds and those of his family.
"I was in a fog for a while," he says. He received clarity in the form of the recession in the fall of that year. "It woke me up again. It made me realize I've got not only my own family to feed but all of these other families of the guys who work for me as well."
For the rest of 2008 and through 2009, Bachtel watched as contractors in his region "dropped like flies." His revenues dropped by 20 percent in 2008. "It was bad. All of a sudden, you go from doing 50 condos with someone to only doing 10. You go from getting paid in 30 days, to 90, or not getting paid at all."
Like most contractors who survived the recession, Bachtel Excavating got lean and performed any job it could get. "There was some skill to it, but there was a fair amount of luck as well," he recalls.
In 2009, as he continued to work at keeping his family and business together, he started dating the woman who would help him do both.
"It was no accident that when Stacey came into my life, Bachtel Excavating started growing again," Bachtel says of the woman who is now both his wife and business partner. "She is a certified public accountant and she pushed me out of my comfort zone in the business. We were doing a lot of things based on emotion. Now we're a lot more balanced."
After the hardships of 2008, 2009 saw a return to $1 million in annual revenue for the company. Since then, it has grown revenue to $4.5 million.
But the business wasn't the only part of Bachtel's life that grew with Stacey. The couple are now raising six kids, three of whom she had with her first husband and Bachtel's best friend, Ryan Hannan, who had passed away.
"I am the luckiest man," Bachtel says. "I have had two women in my life believe in me 110 percent."